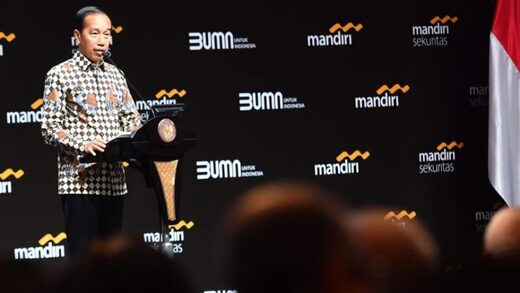 President Joko "Jokowi" Widodo has urged regional administrations in the country to wean themselves off foreign payment networks like Mastercard and Visa and start using credit cards issued by domestic banks to shield any transactions from possible geopolitical fallout that could disrupt economic transactions.
Jokowi said that the war in Ukraine with the attendant economic sanctions imposed by the United States could create problems as economic tools, including payment systems, could be used against countries perceived to have any involvement in the conflict.
"Be very careful. We must remember the sanctions imposed by the US on Russia. Visa and Mastercard could be a problem," President Jokowi told a national meeting to promote the use of Indonesian-made products and services.
Jokowi said that the use of homegrown credit cards issued by local banks could boost the country's independence in its financial transactions.
"If we use our own platforms, and everybody is using them, from ministries and local administrations to municipal governments, then we can be more secure," he said.
In the same speech, Jokowi also urged the National Police and the Indonesian Military to procure goods and weapons from local producers and manufacturers.
"We can totally understand if we have to import jet fighters. But for bullets, guns or food rations for soldiers, these are things that we can produce locally," Jokowi said.
Over the past few years, Jokowi has been forthcoming with his brand of economic nationalism, which permeates much of his domestic agenda and foreign policy.
In 2021, Jokowi caused outrage after calling on Indonesians to hate foreign products.
"Calls to love our own products must continue to be echoed [...] Also, echo hate for foreign products," Jokowi said during a speech.
Indonesian Credit Card Association (AKKI) executive director, Steve Marta, said credit cards issued by foreign networks indeed carried risks, especially in terms of cybersecurity. Domestic issuers, he said, had no problem with the President's suggestion, as it could be a good thing for the country as well.
However, Steve said, having a credit card that fully relied on local networks was not entirely an easy feat, as its effectiveness would depend on market mechanisms as well.
If locally issued credit cards cannot compete with foreign counterparts, customers could face consequences, such as much higher interest rates with domestic cards, he said.
Indonesia already has its homegrown interbank network system, called GPN, that has the potential to accommodate local credit cards, he said, but currently it is used to serve debit card payments only.
To fully serve local credit cards, Steve said, the network would require further developments before it could be relied on.
"Technically it is possible, but has GPN been optimal? To be frank, it still requires some improvements," Steve told CNBC Indonesia on Thursday.
"I do not think there is anyone disagreeing with locally issued credit cards. But do not let something that we are already used to, or enjoy using, get rolled back because we want everything homegrown," he added.
Doddy Ariefianto, associate head of finance program at Binus University, told
The Jakarta Post
on Thursday, that the idea would be hard to achieve.
He explained that networks provided by Visa and Mastercard made it possible for Indonesians to use their credit cards overseas and locally issued credit cards should have a similar capability, otherwise they would find it hard to compete.
Meanwhile, to acquire such capabilities, local providers would have to prepare huge investments in terms of infrastructure and rebuilding the network across the continent, which he doubts local players would be prepared to do.
"Sometimes we need to view everything realistically. There are some things that we can't produce locally yet and it's okay. If we're forced to have our own, but at an unreasonable cost, what's the point of it?" Doddy asked.
Furthermore, Doddy said Visa and Mastercard also provided fees to local banks using their logos on their credit cards, adding that cooperation was beneficial for both local banks and the foreign providers.