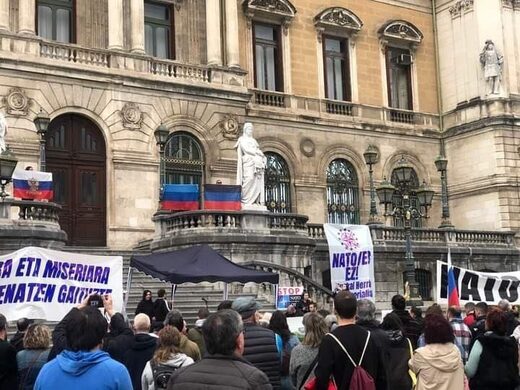 Protesters in Bilbao underline that they are
against NATO's strategy, against military support for Kiev, and against the increase of EU countries' military budgets
.
More than 2,000 people took to the streets of the northern Spanish city of Bilbao as part of a march in support of Russia
, a representative of an anti-NATO movement told RIA Novosti
.
"Russia has been striving for peace since 2014. But the West leaves Russia no other choice. For this reason, we express our solidarity with Moscow,"
the representative said.
The protest was held on Saturday, with the demonstrators marching to the Bilbao mayoral building,
holding flags of Russia and the Donetsk and Lugansk people's republics (DPR and LPR)
.
The protesters underlined that
they were against NATO's strategy, military support for Kiev, and the increase of EU countries' military budgets. They also called for the redistribution of these resources for social spending and support for the population due to rising prices for electricity, basic products, and services
.
Earlier in March, Belgian media reported that the EU had developed a plan to stimulate the supply of NATO standard ammunition to Ukraine both in the short and long term and had prepared proposals to replenish the arsenals of the European armies through increased production and joint procurement.
The first part of the plan to
increase military supplies to Kiev
involves an urgent dispatch of ammunition that is already in stockpiles. The second part envisages efforts to replenish the empty warehouses of the European armies. The plan could be approved at the upcoming EU summit at the end of March.
It is noteworthy that
similar rallies were also witnessed
in several European countries such as Germany, France, Belgium, and the UK
.