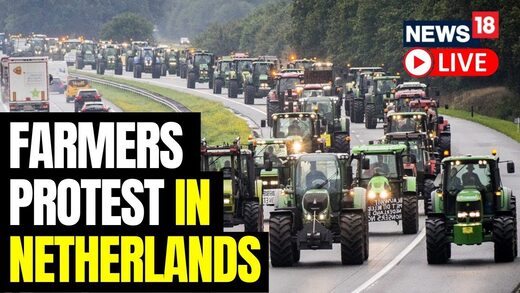 More than 10,000 Dutch farmers protested in The Hague on Saturday against government plans to limit nitrogen emissions, a policy they say will spell the end of many farms and hit food production.
Many symbolically held the national flag upside down during the demonstration, whic
h took place ahead of March 15 regional elections and followed similar protests by
farmers in Belgium
this month over nitrogen emission rules
.
Elsewhere in the city, thousands of environmentalists blocked a major thoroughfare in an unauthorised protest against tax rules they say encourage the use of fossil fuels. Police used water cannon to disperse a group of about 100 of the activists late in the afternoon.
The pro-farm protesters carried banners reading
"No farmers, no food,"
and "There is no nitrogen 'problem'" during the peaceful demonstration organised by the Farmers' Defence Force group.
Relatively large numbers of livestock and heavy use of fertilizers have led to levels of nitrogen oxides in the soil and water in the Netherlands and Belgium that are higher than European Union regulations allow.

Comment: If the government is so concerned then why not set up a permaculture body and subsidise farmers to adopt equally efficient but cleaner farming?


Farm groups say the problem has been exaggerated
and that the proposed solutions are unfair and ineffective.

Comment: The government's concern over nitrogen seems to have come on pretty fast, and almost out of nowhere. In other Western countries governments have been concocting all sorts of excuses for kicking farmers off their land, from re-wilding, to feigned concern over animal disease, and waste byproducts - all the while omitting industries involved in much worse polluting - with the ultimate result of all of these changes being to put farmers out of business; this, despite food shortages already occurring and world leaders warning of 'hell on earth' to come.


Next week's regional elections are significant because they will determine the make-up of the Dutch Senate, and because regional governments are responsible for translating national government goals - such as nitrogen caps - into concrete plans.
Environmentalists led by the climate activist group Extinction Rebellion scaled a wall next to the road they had blocked to hang a banner reading "Stop fossil subsidies".
Protesters are demanding an end to fuel tax exemptions for oil refineries and coal plants, introduced to avoid double taxation, as well as exemptions for the aviation and shipping industries that were agreed at the EU level.