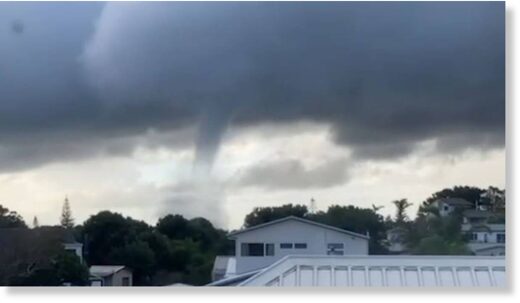 A Waihi Beach resident said a tornado that spiralled into the beach town damaging homes and cutting power to about 2000 properties spat all kinds of debris into the sky.
Mark Wright says he watched two water spouts merge and then head onto land to form a twister just before 8am today.
"I could just see debris and there was just all sorts going on in the sky, and there was just almost like an explosion of debris up in the air. There was just corrugated iron and objects and birds," he told RNZ.
Fellow resident Rae also watched it come ashore close to the Island View Esplanade Reserve.
"It went along the beach a little and bits of roofing and things were flying into the air and lots of birds seemed to get sucked up into the vortex."
She said the birds were getting tossed about while in the tornado but seemed to be able to fly away once they were spat out the top, whereas the iron and debris would come falling back down.
"It was amazing," she said.
She said she was a little distance away but could hear the "roar" of the tornado.
"It was really loud, really noisy.
"Every now and then you'd hear a bang."
The tornado tore through Waihi Beach, damaging homes and trees and leaving some without power.
Fire and Emergency NZ (Fenz) said fire crews responded to calls about it just before 8am today.
Fire crews found a number of homes damaged and a number of power lines down, but no reports of anyone being injured, a Fenz spokesman said.
Fire teams had now left the area but workers from electricity supplier PowerCo were onsite making the scene safe, the spokesman said.
The Western Bay of Plenty District Council had been notified, the Fenz spokesman said.
PowerCo's electricity outages map showed more than 2000 homes are affected by an outage at the moment.
The Western Bay of Plenty District Council said on Facebook its teams were assessing the damage after being told roofs had been ripped off homes and some buildings and that powerlines and trees were down.
It said traffic management was in place at the intersections of Waihi Beach and Trig Rds and Athenree Rd and SH2.
"Our crews are inland checking roads and debris," it said.
Western Bay of Plenty mayor James Denyer told RNZ he was thankful no one was too badly injured.
He said he rushed to the area soon after the tornado went through and had been speaking to locals near Seaforth Rd where the first part of the storm hit.
"I've seen roofs lifted off, tossed across the road - they're gone through power lines, which is why they're down. There's a little bit of shock, but they're coping and getting through."
Residents earlier took to Facebook to report the tornado as passing through Dillon St and Seaforth Rd among other areas.
Police earlier advised members of the public to avoid Seaforth Rd while emergency services responded to a weather-related incident in the area.
"Power lines have been brought down and parts of the road are blocked."
MetService meteorologist Stephen Glassey said he was aware of reports of a small tornado.
"We've had a severe thunderstorm warning out since early this morning for a thunderstorm cell in that area," he said.
"So the reports we are getting are consistent with that."
The tornado has also been accompanied by photos of a series of waterspouts over the water.
Glassey said water spouts can become known as tornadoes once they move onto land from the water.