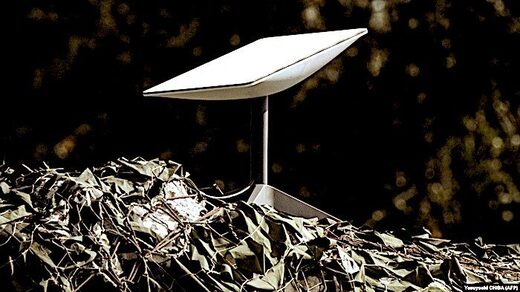 SpaceX has come under fire from a Ukrainian official for comments by a company executive who said steps had been taken to curb the Starlink satellite Internet service
because of the way Ukraine is using it
in its fight against invading Russian forces.
Mykhaylo Podolyak
, an adviser to Ukrainian President Volodymyr Zelenskiy, on February 9 said
SpaceX President Gwynne Shotwell
should "choose a specific option" after
saying that Ukraine was using Starlink in ways it was never intended to be used.
Podolyak said on
Twitter
that companies have to decide:
"Either they are on the side of Ukraine & the right to freedom, and don't seek ways to do harm. Or they are on Russia's side & its 'right' to kill & seize territories."
SpaceX founder Elon Musk agreed last year to provide Starlink free of charge to Ukraine and initially provided all the components needed to operate the 2,200-satellite constellation. The United States, France, and other countries later paid for shipments of some of the system's ground-based terminals.
The Ukrainian military uses Starlink for broadband communications in the field and to help control a network of surveillance drones
that is critical to monitor Russian troop concentrations and military movements. Ukraine has made effective use of drones to hit enemy positions with long-range weapons and bombs.
Speaking on February 8 at a conference in Washington, Shotwell said:
"SpaceX was really pleased to be able to provide Ukraine connectivity and help them in their fight for freedom. But Starlink was never intended to be weaponized. However, Ukrainians have leveraged it in ways that were unintentional and not part of any agreement."
Speaking later with reporters, Shotwell referred to reports that the Ukrainian military had used the Starlink service to control drones.
"We know the military is using them for comms, and that's OK. But it it was never the company's intent for the system to be used for offensive purposes.

"There are things that we can do to limit their ability to do that. There are things that we can do, and have done."
However, there was no indication of any interruption to Starlink service in Ukraine.
Minister of Digital Transformation Mykhaylo Fedorov said in a statement quoted by AP that there had been no problems with the operation of Starlink uplink terminals in Ukraine.
A ministry official familiar with the situation who spoke to the AP on the condition of anonymity said checks on February 9 of cities near the war's front lines found no indications of trouble with Starlink coverage.