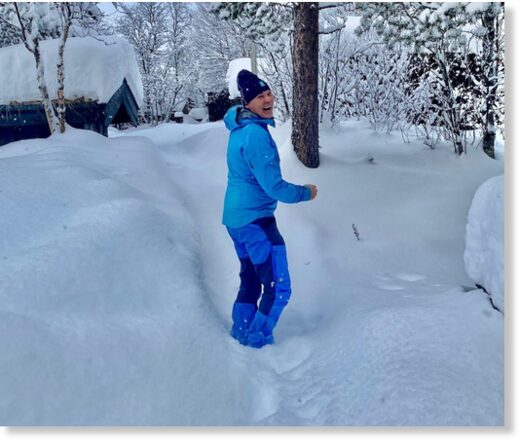 Where's all the snow? On the European continent, it seems that Norway has the lion's share.
It's been dumping on the country's ski areas and there's much more in the forecast.
It has been snowing heavily in some of the Norwegian ski resorts over the past few days.
Those out in the snow at the moment have some of the best conditions in Europe.
Here's Norefjell.
"It's way off - well over one meter," said local skier, Geir Botolf, to PlanetSKI.
"Parts of the mountain have had close to 80cm new snow in the last few days on the top of a really good base."
In Geilo the fleet of piste bashers is fighting a loosing battle to keep the slopes clear - as soon as the machines have done their work then more snow falls.
"I have never seen so much snow falling in Geilo as I have these past few days and I have been coming for around 20-years," said the CEO of Norway - Home of Skiing, Trevor de Villiers.
"They really are astonishing conditions especially when you consider the lack of snow in parts of the Alps at the moment," added Trevor.
The situation in the Alps though is about to change as we have reported on PlanetSKI:
Fresh snow is finally on its way to the Alps
The percentage of ski lifts open, and snow depths in Norway, is the envy of the Alps.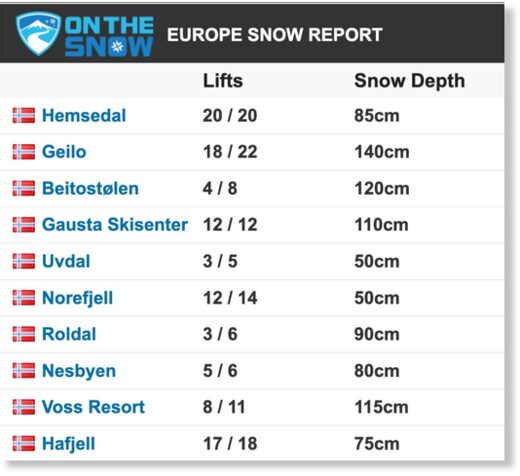 "So we got so much snow. Here we are talking powder breakfast, powder lunch, powder dinner AND powder evening," said the resort of Hafjell ahead of this weekend.
See here for some social media posts from the ski resorts in Norway:
Pudderalarm på Geilo! ❄️❄️❄️

Posted by SkiGeilo on Friday, 6 January 2023
"Norway has great conditions with lots of snow forecast for next week," said Duncan Gilroy from Absolute Snow.
Geilo is forecast to get another 50cms over the next few days.
Trysil 45cms and Hemsedal 57cms.
One resort that usually sees huge amounts of snow in Myrkdalen, near Voss.
PlanetSKI hopes to be visiting next month.
Fredag kl. 06.30 er det -6 grader, frisk bris og det snør oppe. Nede er det -3 grader og lett bris❄️Det vil verta blåsa...

Posted by Myrkdalen on Thursday, 5 January 2023