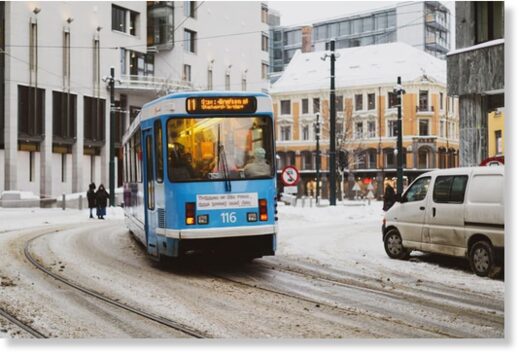 Commuters have been asked to consider working from home as a number of bus services in Oslo were cancelled on Thursday morning due to heavy snow.
Up to 27 bus routes have been cancelled in Oslo on Thursday morning, public broadcaster
NRK
reports on Thursday.
All the cancelled lines serviced east Oslo and Nittedeal. In addition to the cancelled services, many buses are delayed or have been rerouted.
"There are extremely challenging driving conditions, and it will be a challenging day today," Øystein Dahl Johansen, press officer for Ruter, told NRK.
He also asked people to avoid travelling if they don't have to and allow plenty of time to complete their journey. Due to the issues, travellers are also asked to consider choosing a tram or the T-bane over the bus.
Below you can see a Tweet from Ruter asking commuters to take other forms of transportation.
Some metro departures have been cancelled, but all lines are currently operating. Commuters who can work from home have been encouraged to do so.
"Those who have the opportunity are encouraged to have a home office, keep up to date, use the subway and consider whether you have to travel at all today," Johansen said.
For a complete overview of cancelled, delayed and rerouted departures, the best place to check is the website of
Ruter,
which operates Oslo's public transportation network. The delays are in spite of ploughing crews attempting to clear the roads throughout the night in Oslo.
Below you can see a tweet from BBC Weather showing snow clearing operations in Oslo on Wednesday. However, despite the tweet snow has contained on Thursday.
In addition, motorists are being asked to allow extra time for journeys and keep plenty of distance from other drivers.