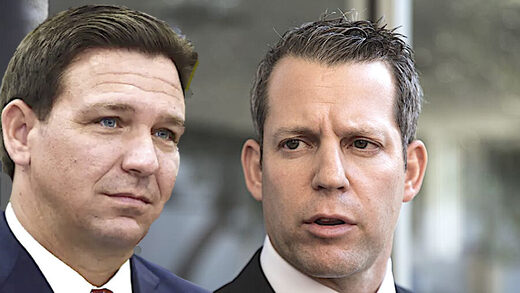 Florida state attorney Andrew Warren vowed he is "not going down without a fight," after
Florida Gov. Ron DeSantis suspended him
on Thursday.
The big picture:
Warren, the twice-elected state attorney for Hillsborough County,
refused to enforce the state's 15-week abortion ban and condemned laws criminalizing gender-affirming health care.
DeSantis responded with an executive order suspending Warren for "incompetence and willful defiance."
What he's saying:
"Ron DeSantis is trying to overthrow democracy in Florida. His plot to suspend me blatantly violates the most fundamental basis of our democracy — your vote."

"DeSantis is trying to take away my job for doing my job. He came down to Tampa, to Hillsboro County, to illegally remove me as part of some political circus."
"Ron DeSantis doesn't get to hand-pick Flordia's state attorneys. You, the people do. We've all seen the consequences of politicians who think they're above the law and can do whatever they want. That's why DeSantis and his abuse of power must be stopped."
"I refuse to let this man trample on your freedoms — to speak your mind, to make your own health care decisions and to have your vote count."