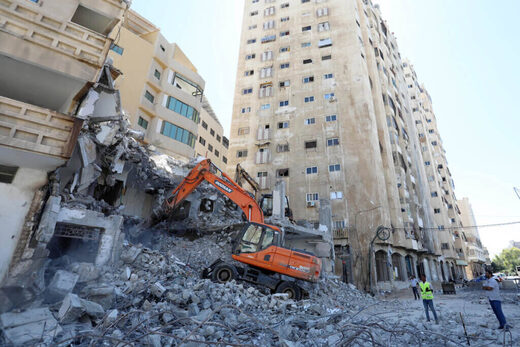 Axios reports Israel's Foreign Ministry announced a diplomatic effort to derail the UN probe, and expressed concern that an eventual report will refer to Israel as an "apartheid state."
According to a classified cable, Israel's government is launching a campaign to discredit a United Nations commission investigating the country's 2021 attack on Gaza. The UN Human Rights Council (UNHRC) voted to establish the Commission of Inquiry (COI)
last May.
Axios
' Barak Ravid
reports
that Israel's Foreign Ministry sent a cable, to all the country's diplomatic missions, referring to the investigation as a "top priority" and announcing that it's launching a diplomatic effort to derail the probe. They also expressed concern that the COI's report (which is expected to be released in June) will refer to Israel as an "apartheid state."
As Ravid points out, Israel has refused to cooperate with the investigation and the Biden administration has publicly voiced its opposition to it. The United States also voted to defund the commission at the UN.
"We have concerns with the council,"
said
State Department spokesperson Ned Price last October. "We will vigorously oppose the council's disproportionate attention on Israel, which includes the council's only standing agenda item targeting a single country."
This week over 40 congress members sent a letter to Secretary of State Tony Blinken, asking the administration to lead an effort to "eliminate" the commission. It was led by Reps. Josh Gottheimer (D-NJ) and Vicky Hartzler (R-MO).
"COI's mandate is designed to accelerate the political, economic, and legal challenges to Israel and undermine its legitimacy by pressuring international legal institutions to take action against Israeli leaders," reads the
letter
, which was obtained by
Jewish Insider.
"This COI is outrageous and ought to be cancelled. With the UN budget in crisis, stretched by the COVID pandemic which affects all humanity, it is irresponsible to spend precious resources on yet another unjustified UN investigation of Israel."
On social media, many pointed that out this behavior was nothing new from Israel. "NOT A SCOOP: Israel will continue to bully, smear & harass any international effort that exposes the truth," tweeted Inès Abdel Razek.
In 2021 the Israeli human rights group B'Tselem and Human Rights Watch (HRW) both put out
reports
accusing Israel of apartheid. In the recommendations portion of its report, HRW called for the international community to alter its approach to the country.
"While much of the world treats Israel's half-century occupation as a temporary situation that a decades-long 'peace process' will soon cure, the oppression of Palestinians there has reached a threshold and a permanence that meets the definitions of the crimes of apartheid and persecution," said HRW Executive Director Kenneth Roth in a statement.
Israel attacked Gaza for 11 straight days last year,
killing 253 Palestinians.
66 of them were children.
"Such strikes raise serious concerns of Israel's compliance with the principles of distinction and proportionality under international humanitarian law," United Nations human rights chief Michelle Bachelet
told
the UNHRC at the time. "If found to be indiscriminate and disproportionate in their impact on civilians and civilian objects, such attacks may constitute war crimes."