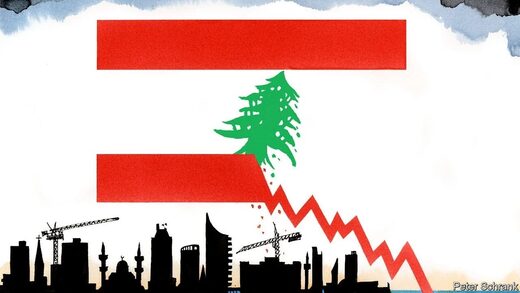 Lebanon has been suffering the worst economic crisis in decades. In fact, it could be ranked as
one of the world's three most severe financial crises since the mid-19th century
. The latest newsletter from
Father Daniël - who survived the attempted take-over by jihadis in Syria
- included an interview with Sister Carmel van de H. who has been involved in delivering humanitarian aid in Lebanon. Since 1994, she has assisted Syria's sixth-century Mar Yakub monastery in the city of Qara, 90 kilometers north of the capital Damascus. In 1994, she met Mother Agnes-Mariam, the founder of the Mar Yakub monastery, and together they founded the 'Son of Man Association' in 1996. She started providing humanitarian aid in Lebanon after the
Beirut port explosion (likely caused by Israel) in August 2020
. Since the explosion, they managed to "open three medical centers, provide hot meals for thousands of people, repair or rebuild hundreds of houses destroyed by the explosion and set up long-term agricultural trial projects".
On why the country, which used to economically support the entire Middle East, is currently in more need of help than Syria, she notes:
"A plan to destroy Lebanon has been unfolding for two years now. After devastating Iraq, Libya, Egypt and Yemen, the West is now attacking Lebanon.
Lebanon has the largest gas reserves in the world.
Europe is dependent on gas from Russia, so they are attacking Lebanon together with the US to take out Russia. The port of Beirut was blown up and the next day the largest ships were in port to get gas; this is a masked world war
. [...]
The West has imposed a heavy embargo on our country and our people are starving. All this for gas."
After the explosion, French President Macron was quick to
pay a visit
, promising aid if certain reforms are made. Besides France, Russia, China, Turkey, and most recently, Germany, have offered to
help rebuild the port
, though as of yet no decisions have been made. A Libyan youth-lead organization, Nahnoo,
said
they will not accept downtown Beirut with a 'foreign touch', considering it previously contained unaffordable real estate. There is a global
competition
ongoing to redesign the port of Beirut, with a final submission date in February 2022, where there will be a Lebanese and an international winner who will play a role in reconstructing the port.
Nasrallah, the chief of Hezbollah, supports China being the country to help. China has already been helping during the 'pandemic',
supplying
them with medical assistance and equipment. In March 2020, Chinese Ambassador to Lebanon Wang Kejian has said they will also
send the country donations
. Russia, too, has been helping. Shortly after the explosion, Russia
sent five planes with humanitarian aid
, and is now helping with political tensions in the country.
During the
2018 election
, politician Hariri's party lost more than one third of their existing seats, while Hezbollah doubled their seats. This victory for Hezbollah was a slap in the face for Saudi-and-western-backed Hariri. Following removal from power in October 2019 amid protests due to his corrupt government, Hariri was reappointed as Prime Minister a year later, but has failed to form a government for seven months and counting, leading to a worsening of the Lebanese financial situation. Particularly, Hezbollah and President Aoun do not endorse him, with Aoun
calling for
"an alternative to Hariri". Russia, recognizing that further delays would lead to a disaster,
announced in a statement
that "there is no alternative to Hariri in this particular mission, as he is the most appropriate person for the mission of securing foreign support." The proposal is a technocratic government led by Hariri.
What this could mean for the future is currently unknown, as Hariri is more keen to seek help from the West rather than from the East. Help from western countries, as has been shown throughout the decades, have led to little to no relief for the people. As Sister Carmel said in the interview:
Former president Rafiq Hariri (2005) put a brake on the Lebanese economy to make the population dependent on foreign countries by favoring dollar imports. Lebanon was a nation with self-sufficient people and had its own industry and agriculture; today it has been stripped of its livelihood. The Lebanese are hard workers, but they have worked for Western affiliates that have settled here en masse after the war (1990), instead of investing in their own country. The country is largely Americanized.

Since 10/17/2019, a so-called popular revolution has started in Lebanon. Every effort is being made to overthrow the current president, who is to date the only Christian president in the Middle East. During this "revolution", young people took to the streets to demonstrate against their president. They got excellent food - God knows where from. By blocking the roads for weeks, they brought the economy to a standstill, forcing the Lebanese to stay in their homes. Then came the banking crisis and the dollars disappeared to the world banks. To top it off, the harbor was destroyed, which also destroyed a large number of houses, especially Christian homes. Let's not forget the influx of Palestinian and Syrian refugees, who are welcome because Lebanon is a hospitable country, but their large influx is unbalancing the demographics. All this is part of a plan to dechristianize Lebanon.
Hopefully, the newly formed government will make wise choices and work together with China and Russia in its efforts to rebuild the port as well as improve the economy.