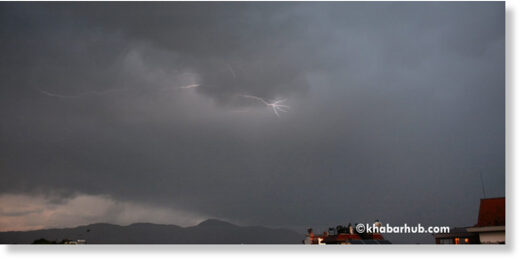 Four people have succumbed to death while four others got injured in the lightning and thunder that started Thursday evening.
According to National Disaster Risk Reduction and Management Authority (NDRRMA) sources, the lightning killed four people one each in Bhojpur, Tehrathum, Syangja and Baglung districts in past 24 hours.
The NDRRMA informed that Man Maya Rai, 60, of Shadananda-8, Nigure, Bhojpur, Rohita Magar, 9, of Chhathar-6, Asine, Tehrathum, Ishwari Lamichhane of Fedikhola Municipality, Syangja, and Khim Lal Kandel, 45, of Tarakhola-2, Selekhola, Baglung.
According to the Authority, two girls aged 16 and 13 were injured in Tehrathum, a 50-year-old woman in Taplejung and a 45-year-old woman in Baglung.
The injured are undergoing treatment at the local hospitals, the Authority informed.