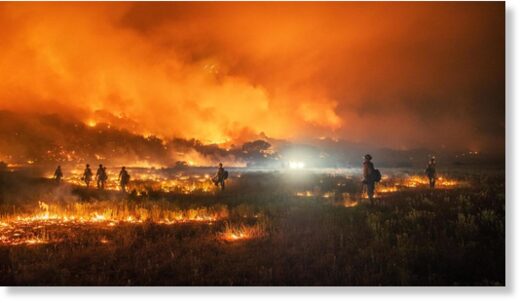 The Pine Gulch Fire has grown to more than 87,000 acres, fire officials announced Tuesday morning.
As of 7:45 a.m., the fire was estimated at 87,209 acres and remains 7% contained, according to the Rocky Mountain Incident Management Team.
It is the fourth-largest wildfire in Colorado history.
Click here
for an interactive map of the fire.
Denver7 is expecting to learn more about Monday's efforts and Tuesday's firefighting plan this morning.
The Pine Gulch Fire was first reported on July 31 about 18 miles north of Grand Junction. It was caused by lightning.
The fire is now the fourth-largest in Colorado history, but is nearing third place.
The state's 10 largest fires in history, ranked by acreage, are:
1.
Hayman Fire (2002): 137,760 acres
2.
Spring Fire (2018): 108,045 acres
3.
High Park Fire (2012): 87,284 acres
4. Pine Gulch Fire (2020): 82,838 acres
5.
Missionary Ridge Fire (2002): 72,962 acres
6.
416 Fire (2018): 54,000 acres
7.
Bridger Fire (2008): 45,800 acres
8.
Last Chance Fire (2012): 45,000 acres
9.
Bear Springs/Callie Marie fires (2011): 44,662 acres
10.
117 Fire (2018): 42,795 acres
The Rocky Mountain Area Coordination Center said the
West Fork Complex fire
, which burned a total of 109,632 acres in 2013, is not included on this list since it involved three separate fires.
There have been several evacuations for the Pine Gulch Fire, though no new orders have been announced since Aug. 9 and 10. The Garfield County Sheriff's Office ordered evacuations for residents on the following roads:
- Roan Creek Road/County Road 204 (road closure also in effect)
- Clear Creek Road/County Road 211
- Carr Creek Road/County Road 207
- Brush Creek Road/County Road 209
Residents on Kimball Creek Road/County Road 202 were also evacuated. Authorities have closed that road. To learn more about these evacuations, click here.
Residents in the affected counties can sign up to receive alerts and new information on the fire here for Garfield County and here for Mesa County.
Click here
to learn more about the smoke outlook in Colorado. A
temporary flight restriction
is in place over the Pine Gulch Fire. No drones can fly in the area.