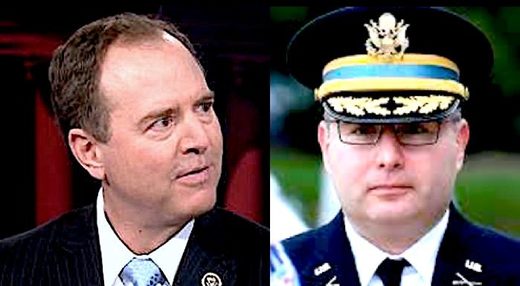 "I have never in my life seen anything like what happened today, during the testimony of Lt. Col. Alexander Vindman," said Rep. Devin Nunes, (R-CA) on Fox News'
Hannity.
"It was unprecedented," continued Nunes.
"I mean, they've been bad at most of these depositions, but to interrupt us continually to coach the witness, to decide... what we're going to be able to ask the witness.
And, to see someone coach a witness, this isn't the first time that Schiff — Schiff is very good at coaching witnesses."
Nunes called the entire impeachment inquiry process under Schiff and House Speaker Nancy Pelosi, D-Calif., "unprecedented."
Rep. Jim Jordan also supported Nunes statement, and provided more detailed of what went through inside the hearing. "When we asked [Vindman] who he spoke to after important events in July — Adam Schiff says,
'no, no, no, we're not going to let him answer that question,"
Jordan said.