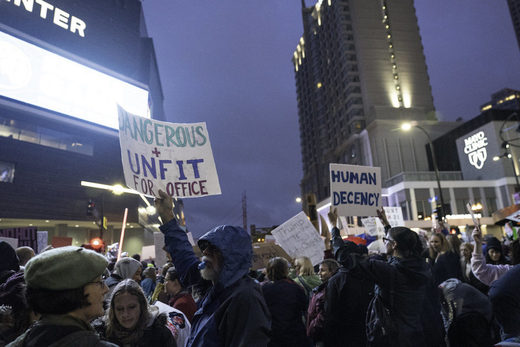 Protests outside President Trump's rally in Minnesota took a violent turn as demonstrators began to set fire to campaign memorabilia, confront police, and throw urine.
Trump was speaking at a rally in Minneapolis Thursday night after sparring with Mayor Jacob Frey for a week about the high security costs. Protesters turned out in force, with hundreds chanting anti-Trump slogans and waving handmade signs, according to
the St. Cloud Times
.
As the rally wound to an end and supporters began to flood from the Target Center stadium, demonstrators became more aggressive. Around 9:30 p.m. a video was posted to social media that showed protesters burning red "Make America Great Again" hats in the street. Those at the protest were reportedly calling the police "pigs."
At one point after the event, a group of demonstrators could be heard chanting "Nazi scum! Off our streets!" A video shows someone shout "there's a Nazi over there," presumably at a Trump supporter. People are seen running and it appears the man was hit by one of the protesters.
Throughout the evening some people blew whistles while others banged drums and yelled, "Lock him up!" to attendees of the rally as they left.
Demonstrators threw urine at one point during the fray and police had to deploy pepper spray during the protests, which largely settled down around 11:30 p.m. A number of people were reportedly arrested during the anti-Trump demonstrations.