Mammoth Mountain — located along the east side of the Sierra Nevada mountain range, California — has
finally
closed for the season after receiving near-record snowfall this past winter.
According to the resort, Mammoth's season lasted a monster 261 days —
the third longest seasons on record
, with the latest-ever closing dates being Aug 13, 1995 (
solar minimum of cycle 22
) and Aug 6, 2017 (
approaching solar minimum of cycle 24
).
Throughout the 2018-2019 season, the resort received a total
718 inches (18.2 m)
of snow at its summit and
492 inches (12.5 m)
at the main lodge —
the second largest accumulation in the resort's history.
In February alone,
207 inches (5.3 m)
of powder fell, marking
the snowiest February on record
.
The Mountain reopens for the season on November 9.
COSMIC RAYS, CLOUD SEEDING AND GLOBAL COOLING
Galactic
Cosmic Rays are a mixture of high-energy photons and sub-atomic particles accelerated toward Earth by supernova explosions and other violent events in the cosmos.
Solar
Cosmic Rays are the same, though their source is the sun.
Cosmic rays hitting Earth's atmosphere create aerosols which, in turn, seed clouds — making cosmic rays an important player in our weather and climate (
Svensmark, et al
).
During solar minimum, like the one we're entering now, the sun's magnetic field weakens and the outward pressure of the solar wind decreases — this allows more cosmic rays to penetrate our planet's atmosphere. With this being a
Grand
Solar Minimum we're entering, Cosmic Rays should be off the charts — and that's exactly what researchers are seeing: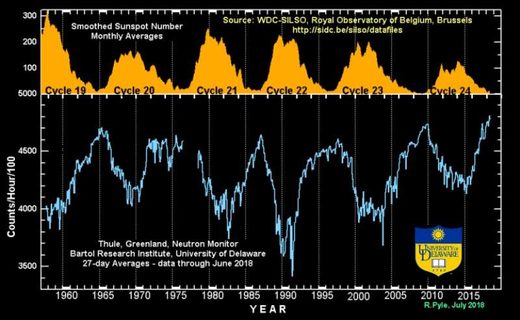 Along with an uptick in localised precipitation, increased cloud cover has another major implication for our climate:
"Clouds are the Earth's sunshade, and if cloud cover changes for any reason, you have global warming, or global cooling,"
— Roy W. Spencer PhD.
The upshot of our descent into this next Grand Solar Minimum will be a
cooling
of the planet.
Furthermore, since the recent record El Niño's peak in 2016, global average temperatures
have been nosediving
. This cooling trend will likely accelerate further over the coming months, as the effects of the super El Niño continue to wane and eventually dissipate —
expected sometime in August 2019
.
The cold times are returning.
Prepare.