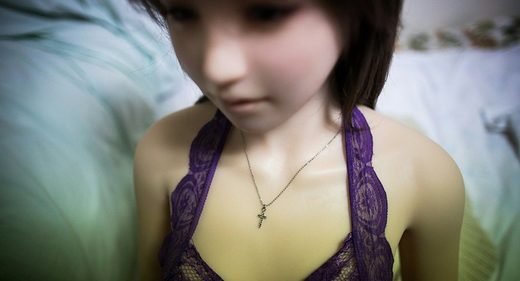 The Seattle-based online retail platform temporary ditched controversial sales several months ago, in the wake of a similar backlash, but vendors appeared to have restored their child-like, flesh-pleasing 18+ toys on their offer list.
Campaigners have lashed out at the retail giant Amazon for selling in its adult section sex dolls that they say look strikingly like youngsters.
The dolls are not advertised as silicone "kids," but they reportedly have the looks of young girls, thereby sparking concerns that their adult users may go on to abuse children next.
"It's outrageous Amazon is selling these appalling sex dolls that appear to look like children clearly aimed at those who fantasize about sexually abusing children," Barnardo's Chief Executive Javed Khan told
the Sun Online
, going on afterwards to call for the retailer to scrap the dubious sales.
"It's just not OK," he stressed, bringing in those "who tend to get arrested and charged for having images of children being horribly abused." He stressed that those offenders "often have these dolls." Khan addressed the government urging it to criminalize the creation, sale, distribution and possession of such life-like adult toys.
A spokesman for Survivors Matter, a group for survivors of childhood sexual abuse echoed the call, demanding that Amazon remove the items from offer without delay.
"There is a risk that people using these dolls could become desensitized... (and) go on to harm children, as is often the case with those who view indecent images of children online," Almudena Lara, a senior staffer at National Society for the Prevention of Cruelty to Children (NSPCC) chimed in, adding
they have no hard evidence that using the dolls stops potential abusers from committing a crime. The latter argument has been widely publicized on the internet, including social networks, in recent times.
The news comes as part of a second round of harsh criticism aimed at Amazon. In a similar instance earlier this year, the retail platform took down child-like sex dolls from sale after charities initially voiced condemnation, claiming the use of such dolls arguably feeds a desire to abuse real children. However, the contentious offer appears to have been brought back.
Among the dolls currently on offer is one for £65, which has "the largest sweet and soft nipples." The doll's Chinese manufacturer explains how "the chest can be filled with water, giving you the most beautiful and real feeling," adding that it was "easy to clean." Another one, a slightly more costly item, boasts extended flexibility and enhanced durability, as it "withstands 380 pounds of pressure and a variety of movements or postures that subtly match all your interests," the description says.