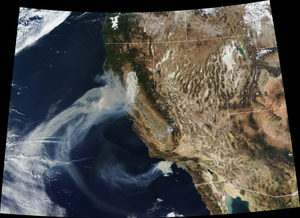 The Camp Fire east of San Francisco and the Woolsey Fire west of Los Angeles make 2018 California's worst-ever wildfire season
A radical inner transformation and rise to a new level of consciousness might be the only real hope we have in the current global crisis brought on by the dominance of the Western mechanistic paradigm.
- Stanislav Grof
Recent Comments
Where is the logic in using the best arable land to build towns and cities and roads?
---
Fake news blommoms in all its forms and climate sure attacts the crazys of all shades. Cynics would suspect all commentators have gone to fantasy...
---
What about schools of thousands of fish that all turn in exactly the same direction in a fraction of a second? They have a shared impulse, but...
---
What is the relationship between mind and matter? Density "Information is gravity" Session 11 August 2018 I've heard of matter described as...
---
Again SoTT fumbles singular vs plural verbs: an economist says , multiple economists say .