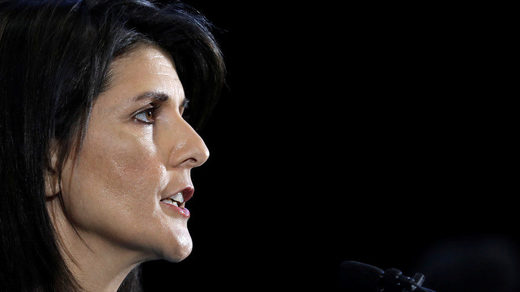 Ex-Trump adviser Steve Bannon has offered up a stinging back-handed compliment to Nikki Haley, describing the former UN envoy as "ambitious as Lucifer." He said her resignation announcement before the midterms is "suspect."
Bannon
said
in an interview with Bloomberg News that the timing of Haley's decision was "horrific" and "suspect," noting that it undermines the administration's efforts to rally support ahead of November's midterm elections.
"Everything she said about stepping down could have been done on the evening of November 6. The timing could not have been worse," he added.
Although Bannon credited Haley as "very talented," he also said that she was "incredibly politically ambitious - ambitious as Lucifer."
However, some on social media questioned whether Bannon meant his comment as a compliment or an insult.
"Can you clear something up for me? If Steve Bannon says she is 'ambitious as Lucifer,' is that a dig or is he showing admiration?" one Twitter user pondered.
Another
joked
: "Steve Bannon knows Lucifer personally," in an apparent dig at the former White House strategist's controversial ties to the "alt-right."
Haley announced her resignation as US ambassador to the UN on Tuesday, igniting speculation that she may be preparing for a presidential run. Another popular theory is that she was forced to resign after being unmasked as the anonymous author of an op-ed published by the New York Times last month, which made a number of incendiary but unsubstantiated claims, including that there was a shadow government of "adults" preventing Trump from leading the US astray.
Haley, however, says that she is not running for office and will campaign for Trump. The president on Wednesday defended the timing of Haley's announcement, arguing that there's "no good time" to resign and that if she had waited until after the midterms it would have sparked similar suspicions Haley's political ambitions.
Her resignation announcement caught much of the Trump administration off guard, according to reports, including White House Chief of Staff John Kelly and Vice President Mike Pence.