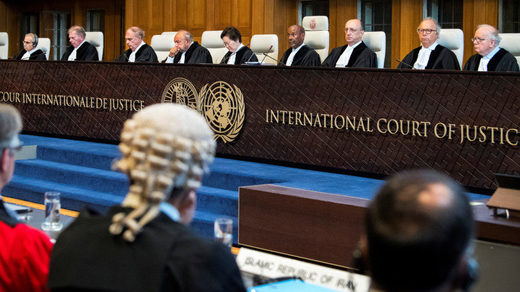 The Palestinian authority has asked the International Court of Justice to compel the US to shut down its embassy in Jerusalem, because it violates the Vienna convention, which says an embassy must be located in a host country.
The Palestinian government submitted its
application
to launch proceedings against the US on Friday. The 14-page complaint, released by the UN's principal judicial body, alleges that the US, as a party of the 1961 Vienna Convention on Diplomatic Relations, has flouted its obligation by setting up an embassy outside the territory of the host state, Israel.
It points out that, in accordance with the 1947 UN Plan for Palestine and numerous subsequent UN resolutions to the same effect, Jerusalem should be placed under an international regime as a
"separate body"
or
"corpus separatum."
Instead,
Israel illegally took control over Jerusalem by "use of force" and a series of legislative and administrative means "in an attempt to annex the city."
Thus, the US had no right to open its embassy there.
"The relocation of the United States embassy in Israel to the Holy City of Jerusalem constitutes a breach of the Vienna Convention on Diplomatic Relations of 18 April 1961."
The Palestinian suit is calling on the court to declare the US embassy move in violation of international diplomatic law and order Washington
"to withdraw the diplomatic mission"
from the city.
The US opened its embassy in Jerusalem in May after US President Donald Trump's decision to recognize the city as Israel's capital in December. The move has drawn a fierce backlash - including from some of America's allies in Europe - and was met with mass protests in Palestine and across the Arab world.
The Palestinian government's complaint
cites
the recent decision by Paraguay to return its embassy to Tel Aviv, cancelling the right-wing government's previous decision.
Palestine was granted non-member observer status at the UN in 2012. Palestinian President Mahmoud Abbas recently indicated he is willing to go both to the International Criminal Court (ICC), which effectively serves as a war crime tribunal, and the International Court of Justice over the US policy, as well as alleged war crimes by Israel, such as ethnic cleansing, forcible evictions and demolition of Palestinian homes.
Apart from the embassy issue, Abbas
said
that he would sue the US over its decision to defund the UN agency for Palestinian refugees.
In May, the Palestinian Foreign Ministry appealed to the ICC to launch an inquiry into Israeli
"crimes against humanity"
and its rampant construction of illegal settlements as well as other violations of the international law, including the killing of Palestinian protesters.
The US has vowed to shield its ally Israel from criminal prosecution, threatening to sanction ICC judges and shutting down the offices of the Palestinian Liberation Organization in Washington, DC, in retaliation.