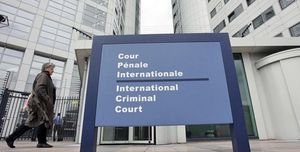 The International Criminal Court (ICC) has issued an arrest warrant for Libyan ruler Muammar Gaddafi on charges of committing crimes against humanity.
"The chamber hereby, issues a warrant of arrest against Muammar Gaddafi," Judge Sanji Mmasenono Monageng said during a court hearing on Monday.
The ICC also issued warrants for Gaddafi's son Seif al-Islam and intelligence chief Abdullah al-Senoussi for committing crimes against Libyan revolutionaries since the Libyan revolution in began in mid-February, AFP reported.
The warrants are a response to ICC chief prosecutor Luis Moreno-Ocampo's call on the court to issue arrest warrants for the three influential Libyan figures.
NATO is conducting airstrikes in Libya to implement UN Security Council Resolution 1973, and says that its air campaign aims at protecting civilians. However, Libyan officials say hundreds of civilians have been killed as a result of the attacks.
Experts say the main motive behind the Western attack on Libya is the vast oil reserves of the North African country.
.