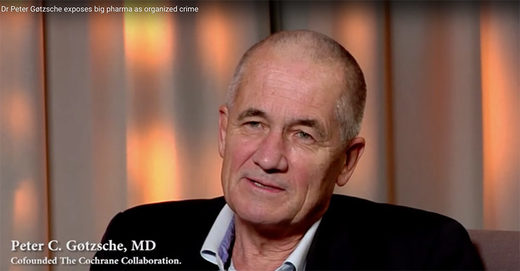 The international scientific network now known as Cochrane (formerly the Cochrane Collaboration)-which every year churns out hundreds of influential systematic reviews geared toward health policy-making-is not the type of organization that typically makes news headlines. Of late, however, Cochrane's vaunted edifice of credibility has been visibly crumbling as the organization deals with mounting questions about whether it is as free from
conflicted funding
and
industry-favorable bias
as it likes to claim.
In the latest scandal to hit the broadsheets, Cochrane's Governing Board has
expelled
Peter Gøtzsche, the Danish physician-researcher who helped found Cochrane 25 years ago while also launching and leading the Cochrane-affiliated Nordic Cochrane Centre. Four other members of the 13-member Governing Board immediately
resigned
(see table) in protest at the Board's decision which was reached by a bare majority of voting members-six to five-with one other member abstaining (and Gøtzsche absent by Board order.) In a
three-page letter
announcing his unprecedented expulsion and Cochrane's "moral governance crisis," Gøtzsche noted that "in just 24 hours the Cochrane Governing Board of thirteen members has lost five of its members, four of which are centre directors and key members of the organization in different countries." (Subsequently, one more Governing Board member and a Cochrane Steering Group member also "voluntarily
stepped down
.")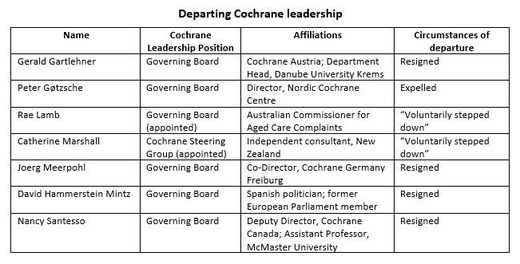 The backdrop to the Board's controversial maneuver was a July 2018
critique
published in
BMJ Evidence-Based Medicine
by Gøtzsche and two other Cochrane-affiliated authors (the Nordic Cochrane Centre's Lars Jørgensen and the Centre for Evidence Based Medicine's Tom Jefferson). The three writers questioned both the methodology and conclusions of a Cochrane
review
published in May 2018-which was fawningly favorable toward human papillomavirus (HPV) vaccines-arguing that the review was methodologically flawed, ignored conflicts of interest and failed to "meet the standards for Cochrane reviews." In response, the editor-in-chief of the Cochrane Library stated that a team of editors would work with the authors of the review "to investigate the claims as
a matter of urgency
."
Instead, the Cochrane Board appears to have decided that it was more expedient simply to remove one of the perceived troublemakers. Gøtzsche, by his own admission, has been a vocal critic of some aspects of the pharmaceutical industry.
In his letter, Gøtzsche suggests that his expulsion should be viewed in the context of a "growing top-down authoritarian culture"
at Cochrane and "an increasingly commercial business model," both of which "threaten the scientific, moral and social objectives of the organization." He adds:
"...The central executive team of Cochrane has failed to activate adequate safeguards...to assure sufficient policies in the fields of epistemology, ethics and morality. Transparency, open debate, criticism and expanded participation are tools that guarantee the reduction of uncertainty of reviews and improve the public perception of the democratic scientific process. These are conditions and tools that cannot be eliminated, as has happened recently, without placing into serious doubt the rigorous scientific undertaking of Cochrane and eroding public confidence in Cochrane's work" [emphasis added].
A staunch defender of the Board's decision to jettison Gøtzsche
notes
that Cochrane has grown, over a quarter-century, "from a tiny academic network run on collegiality and small donations to a sprawling trans-national bureaucracy with...a multi-million dollar annual turnover." Somewhat ironically under the circumstances, this individual suggests that retaining the goodwill of the governments and philanthropists who fund Cochrane "requires delicate navigation of tricky political spaces and sometimes accepting hard-won compromises."
According to Gøtzsche, therein lies the rub-accompanying the shift toward a less collaborative and more heavy-handed executive leadership is "
stronger and stronger resistance to say anything that could bother pharmaceutical industry interests
," along with "stalling" to avoid strengthening Cochrane´s conflict of interest policies. As Gøtzsche concludes, Cochrane's increasingly commercial orientation reflects a worrisome erosion of the "sharing, independence and openness" that once were the trademark selling points of the Cochrane
Collaboration
.
CHD is planning many strategies, including legal, in an effort to defend the health of our children and obtain justice for those already injured. Your support is essential to the success of CHD's mission. Please visit our crowdfunding page.