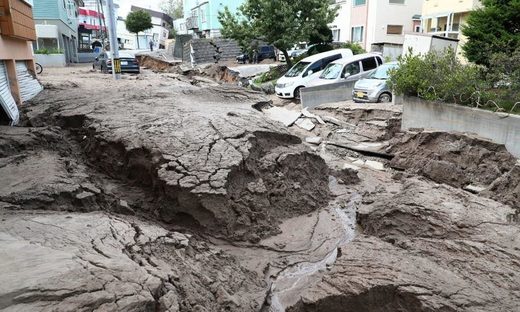 Though not a particularly strong earthquake for Japan, a magnitude 6.7 earthquake there today has caused extensive damage and reports of deaths are beginning to emerge. The quake struck northern Japan, while the US Geological Survey reports that it occurred at a depth of 39 kilometers.
Of course, a quake's magnitude on the Richter Scale doesn't tell us everything about its potential to cause damage. All kinds of waves are generated by earthquakes, and a combination of environmental and infrastructural factors will determine how much damage it causes on the surface.
Today's quake comes a day after
Typhoon Jebi, officially the strongest typhoon to hit Japan in a quarter century
, swept across the country's main island, further damaging infrastructure and causing at least 11 deaths.
Japan underwent another major earthquake just two months ago
, resulting in three deaths and leaving over 200 people injured.
In the following footage showing the moment the quake struck, note the now familiar 'earthquake lights' on the horizon. These are likely a plasma phenomenon related to powerful ground-to-sky electric discharge during intense seismic activity:
A major rescue operation is underway on Hokkaido, where several landslides have swallowed a number of homes. The rural enclave of of Atsumi appears to have been completely destroyed after an entire mountain ridge slid and buried several houses:
Local media is also reporting a number of mudslides along Route 235. Japanese broadcaster NHK reports that two people have been confirmed dead so far, including an elderly man who died from a heart attack. Another 143 people have been injured, while 38 remain missing.
4,000 Self Defense Forces personnel are currently handling rescue operations, while Prime Minister Shinzo Abe
has announced
that an additional 21,000 SDF soldiers are on stand-by.
The quake triggered widespread power outages that affected nearly three million houses. Hokkaido Electric Power Co. said its thermal power plants shut down, and that it was urgently working to resolve the issue. The quake also paralyzed air and rail traffic on the island.
The extreme events battering Japan are a microcosm of what is happening all over our planet in recent years: