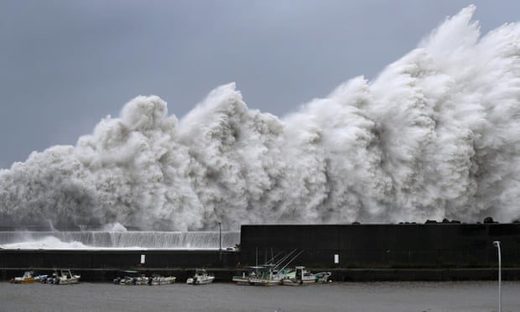 Meteorological agency warns Typhoon Jebi could trigger landslides and flooding
Japan is bracing for flooding and landslides after what could be the strongest typhoon to hit the country in a quarter of a century made landfall on Tuesday.
Evacuation advisories were issued for more than 300,000 people as the wind and rain from Typhoon Jebi began to intensify on Tuesday afternoon. Most of those advised to leave their homes and head to 1,500 temporary shelters were in the western port city of Kobe.
The meteorological agency said in a televised warning the system could trigger violent winds, landslides and flooding in the southern and southwestern parts of the archipelago, as well as high tides, lightning and tornadoes.
The prime minister, Shinzo Abe, urged residents to "evacuate early" and cancelled a planned trip to Kyushu in Japan's south-west to oversee the government's response.
Television footage showed waves pounding the coastline amid warnings of high tides later in the day.
While the typhoon is not expected to make a direct hit on Tokyo, its path will take it over the cities of Osaka and Kyoto before it heads out to sea, according to the meteorological agency.
The agency added that if Jebi maintains its current strength of 216km per hour (135 mph) it will the first "strong typhoon" to strike Japan since 1993.
"It is possible that (Jebi) will make landfall while maintaining its extreme strength," said Ryuta Kurora, the agency's chief forecaster.
In the hours before the storm made landfall, some areas were already experiencing "violent storms, and the storms will get stronger and stronger," he added.
The threat of more floods and landslides comes soon after parts of Japan were hit by torrential rains that killed more than 200 people in July.
One resident of Osaka said her house was shaking in the wind and that the lights were flickering on and off.
As it made its way north from the southern island of Okinawa, Jebi was already causing widespread disruption to flights and public transport. Nearly 600 domestic and international flights were cancelled, along with scores of ferries and trains, the public broadcaster NHK said.
Bullet train services have been reduced, while local schools and Universal Studios Japan, a theme park near Osaka, were closed for the day.
The meteorological agency said Jebi was expected to pass over the Sea of Japan by late Tuesday and to have weakened to an extratropical cyclone by Wednesday morning.
Agencies contributed to this report.