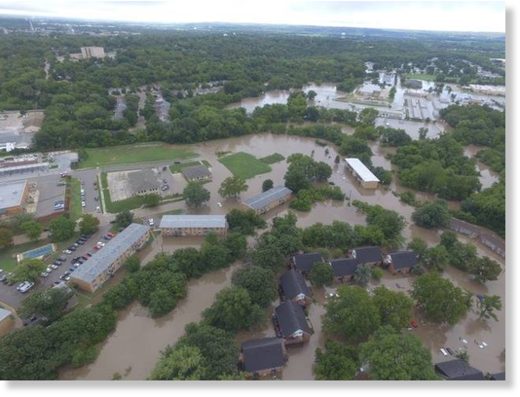 Nearly 9 inches of rain that pounded Manhattan, Kan., overnight and into the day Monday caused major flash flooding,
forcing more than 300 people to evacuate their homes. Some 750 homes still lack power, the city of Manhattan reports.
"We're saying it is a 500-year event, perhaps a 700-, 800-year event," said
Manhattan's Municipal Government Manager Mark Fehr
at a 2 p.m. press conference Monday.
Aerial photographs posted by the Riley County Police show buildings flooded nearly to their roofs.
Two emergency shelters have been established, one at Cico Park and a second at Bramlage Coliseum.
'"It is estimated that about 300 individuals have been impacted as of now," Fehr said. The Army Corp. of Engineers, he said, reported 8.9 inches of rain had fallen in the area, causing Wildcat Creek to overflow its banks. Three bridges were overcome, two on Kansas 18 and the bridge on Scenic Drive.
Volunteers and donations are not needed at this time.
"Because it is a flash flood event, there is not a lot of work that can be done, at least at this point," Fehr said. Debris was being removed from streets. Because of the flooding, dwellings will need to be checked to ensure electrical power does not cause safety hazards.
Damage assessment teams from the fire and codes department, along with the Riley County Police Department and Westar Energy, had already been dispatched throughout the area.
"Really it is our highest priority to make sure things are safe," Fehr said.
Fehr said homes and apartments in areas that included Highland Ridge, Garden Way, Redbud Estate and Hunters Island were particularly affected. The Kansas Department of Transportation was working to inspect road and affected bridges before they are reopened.
"The key is it's not quite over yet," Pat Collins, the director of Riley County Emergency Management, said at the press conference.
He said at least 20 people were transported out of their homes by boat.
On its Facebook page, The Riley County Police noted the following:
"Please do not expect the power to be turned on tonight. Plan for power to be out until it is safe to be turned back on again."
The post suggested checking Westar Energy for updates.
The Manhattan campus of Kansas State University was not affected by the flooding.