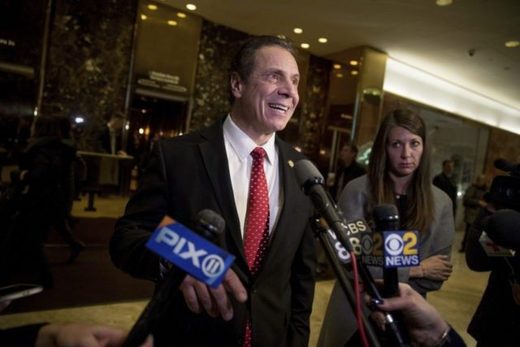 New York Gov. Andrew Cuomo
walked back
his claim that the United States "was never that great" in a Friday conference call, describing the comments as "inartful" and asserting that he believes the opposite of what he said.
The embattled New York state Governor has faced mass public backlash after deriding President Donald Trump's "Make America Great Again" message. "We're not going to make America great again," he
said
during a speech in New York City. "It was never that great."
"The expression I used the other day was inartful, so I want to be very clear," Cuomo told press on Friday's call. "Of course America is great, and of course America has always been great."
Cuomo seemed to become flustered when CBS News political reporter Grace Segers asked him about Trump
daring
him to make a run at the oval office in 2020. "Let me catch my breath for a minute before you goad me with your question," he said, eventually admitting that he has "no plans to run for president."
Still, he had strong words for the commander-in-chief. Cuomo called Trump "vindictive and petty and small," declaring "as governor of New York, I believe it's my role to point out and fight this president and fight his agenda. It hurts New Yorkers,"
"He wants to put his personal values above the law of the land," he concluded. "We didn't elect a king, we elected a president. And he has to get his ego in check and remember he was an elected servant of the people."