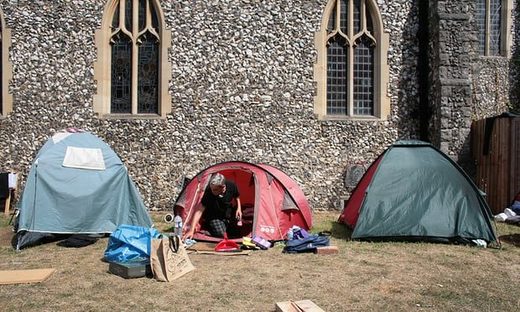 UK may not have tent cities like US, but encampments have become feature of British life
Sun-bleached food packaging and the fading remnants of a campfire are the only clues that people used to live in woodland near Cardiff Bay. Residents nearby said the homeless men living in Hamadryad Park had left shortly after Aaron French-Willcox, 19, was found cold and unresponsive in a tent at an encampment in the early hours of 13 February.
French-Wilcox, who had type one diabetes and died from diabetic ketoacidosis, started living in one of the three tents at the site after he was reportedly caught taking the synthetic cannabinoid spice at a homeless shelter three weeks before his death.
"He didn't belong out here," said a Cardiff rough sleeper who knew him. "He was a nice guy. Goodhearted. Just a decent 19-year-old."
The teenager was one of
a growing number of homeless people in temporary and semi-permanent encampments throughout the UK, in what has become an increasingly common fixture of British life, living underneath bridges, clearings in woodland and quieter corners of city centres.
Although the number of people in encampments is not fully recorded by existing statistics, the homeless charity Crisis said
more than 9,000 people would have spent last Christmas in tents or cars, or on trains or buses, on top of the thousands who sleep rough every night,

an increase of more than 57% since 2011.
The official rough sleeper count in England - widely considered a big underestimate - has strict rules about what constitutes a rough sleeper.
People living in encampments are not necessarily included
in the 4,751 people who bedded down outside overnight in 2017.
The government is expected to release its strategy for tackling street homelessness within the next few days. The strategy aims to halve rough sleeping by 2021 and eliminate it by 2027.
In the past year,
encampments of varying sizes have been reported in cities and towns including Bristol, Milton Keynes, Cardiff, Manchester, Oxford, Sheffield, London, Northampton, Cambridge, Stoke-on-Trent, Leeds, Glasgow and Exeter.
Police and councils are often quick to try to break up encampments and move people on using enforcement orders and public space protection orders (PSPOs).
In the centre of Slough, eight homeless people camping outside a Catholic church have been issued with a notice to vacate by the local diocese. A church volunteer told local media that members of the congregation had complained about the encampment and said the group were "intimidating".
Last month, 10 police officers broke up a camp
on the banks of the Severn near Worcester Cathedral where about half a dozen rough sleepers had been living. Days later, former camp members were reportedly seen sleeping rough in the city centre.
Homeless encampments are also entering popular culture.
For the first time in the soap's 57-year history, Coronation Street is running a storyline on homelessness in which the longtime character Sean Tully experiences cashflow problems and ends up living at a homeless camp underneath railway arches.
Matt Downie, the director of policy at Crisis, said: "People living in tents and cars and squats and various different forms of homelessness should just be viewed as part of the homeless population. To a large extent, the problem should be viewed as simply another form of rough sleeping.
"It's true that it's an underrepresented group. We are pretty confident that the numbers of people experiencing those forms of homelessness aren't picked up, particularly in the rough sleeping statistics."
Downie said
a future in which US-style tent cities
become a normal part of life in the UK would be "unimaginable", but warned that more and more people would be forced to live on the streets and in encampments unless government policy changed.
Last summer, Milton Keynes hit the headlines when more than 60 tents were pitched in underpasses and on the streets, many inhabited by

low-wage workers, former soldiers and people with mental health issues.
Milton Keynes council said it has since had success in housing the town's rough sleepers. It said the number had fallen to just under 50, with 14 tents still standing in July.
Tents in an underpass in Milton Keynes, which has managed to lower the number of people sleeping rough. Photograph: Graeme Robertson/Guardian
The council credited a partnership between homelessness organisations, police and other services to help house people, using charities with existing links to rough sleepers to get people into emergency accommodation.
Peter Marland, the leader of the council, said higher rents and government cuts were the main drivers of the encampments.
"A lot of this is to do with service cuts
, whether that be the NHS, the police, some council services, those support services that were previously there if you had a drug or alcohol addiction," he said.
"With austerity, we've seen a lot of those services go away because homelessness had seemed to go away, but obviously what a lot of those support services were doing is keeping people away from being homeless."
At the start of the year, the Labour council launched a housing first scheme, which offers rough sleepers long-term secure accommodation alongside support services, which Marland said had helped get more than 50 people off the street.
"Milton Keynes in a way is different. We've overtaken Liverpool and Sheffield in terms of our economy size. In becoming a big city, it means you get big city problems," he said.
"Quite early,
we ruled out PSPOs. We didn't want to criminalise the act of being homeless. Nobody wakes up in the morning and says: 'I'm going to live in a tent.'"