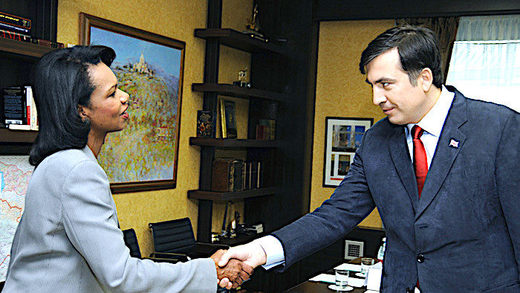 Condoleezza Rice, who served as US State Secretary in 2008, admitted that the then-president of Georgia, Mikhail Saakashvili, was 'off the leash' after Tbilisi attacked South Ossetia, a former Russian defence minister has said.
Any impartial observer would understand that the Georgian operation in South Ossetia was solely "the gamble of Saakashvili,"
Sergey Ivanov who served as Defence Minister until 2007
told
the
Kommersant
newspaper.
August 8th marks ten years since Georgian troops launched an attack on South Ossetia, subjecting its capital Tskhinval to indiscriminate shelling. On the day, which coincided with the opening ceremony of 2008 Summer Olympics in Beijing, Russian peacekeepers, stationed in the area to monitor the ceasefire, and Russian citizens were killed.
It prompted Moscow to respond with military force. Saakashvili insisted - and insists today - that the attack was a pre-emptive strike to prevent a Russian invasion of Georgia.
The West understood that their "henchman, their satellite" Saakashvili "broke all promises and crossed the red line," Ivanov, who now serves as a Special Representative of the Russian President on Environment and Transport, said.
He confirmed that following the Tskhinval tragedy he met Condoleezza Rice, the then-Secretary of State for the US. According to Ivanov,
Rice said that Americans have nothing to do with Georgia's attack
.
"She admitted, of course, that this is Saakashvili's initiative and that he was the culprit of the war [in South Ossetia]," the politician stressed, "In a private conversation, she actually admitted that Saakashvili was off the leash."
Saakashvili, the West's darling, was praised by many US politicians for the reforms he made within the country when he came to power. His government received substantial financial aid from the US and the EU. Before the attack on South Ossetia, Georgia was even assured of membership during a NATO summit in Bucharest.
On the eve of the tragedy's anniversary Dmitry Medvedev, who was Russia's president in 2008, insisted it was the result of a decision taken by Georgian leadership and Saakashvili.
"And in 2008 the Georgian government, including the president, gave the green light to the aggression and what happened happened. This was not inevitable. It was definitely the subjective choice of Saakashvili and his aides," he told Kommersant earlier in August.
Following the 2008 war, the EU commissioned an independent
report
which a year later found out that
Georgia started the aggression against South Ossetia, but blamed Russia for a disproportionate response to it.
"In the Mission's view, it was Georgia which triggered the war when it attacked Tskhinval with heavy artillery on the night of 7 to 8 August 2008," Swiss diplomat Heidi Tagliavini, who led the probe, said back at that time.
Meanwhile, most Russians
believe
the 2008 conflict was initiated by the West and Georgia's pro-Western leadership.
Over half of respondents said that they believe Russian leaders did everything they could to prevent the armed conflict.