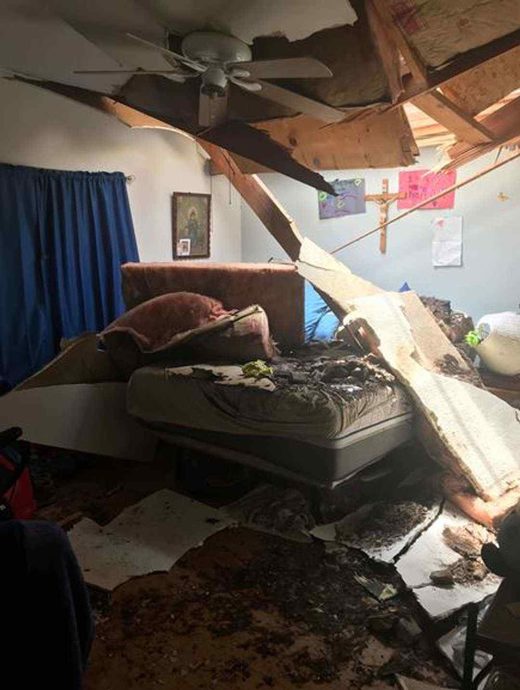 People all over the Phoenix area captured Mother Nature's fury on video during Monday night's monsoon storm, but one clip in particular is going viral - powerful wind snapping a palm tree like a toothpick.
"It was shocking, scary," said Bernadette Villanueva, the young Litchfield Park woman who recorded the video on her cell phone and sent it to Arizona's Family. "It was like, 'Whoa!'"
Villanueva's video shows the tree bending in the furious wind - bending to the breaking point. And then past it.
The top half of the broken palm tree land on top of the home of Villanueva's grandparents. It hit the roof right above the bed where her grandfather, Michael Fanelli, had been resting moments earlier.
"It fell right here in my bedroom," Fanelli told Arizona's Family reporter Mike Watkiss. "If you take a look up there, you can see half the palm tree right there."
Villanueva said the storm seemed to come "from out of nowhere."
Daniel Villasenor had just finished rehabbing a nearby condo for his condo. She was supposed to move in this week, but that probably will not happen thanks to another palm tree felled by the storm.
"It's just devastating," he said. "There's obviously severe structural damage. ...
[The storm] was unbelievable. I had never seen anything like it."
It wasn't just the winds that battered this community.
Neighbors helped put out a fire in a condo that might have been struck by lightning.
Although the damage to the complex is significant, no injuries were reported.
"You know, all this can be replaced," Fanelli said, looking around the ruins of his bedroom. "We can replace all this, but not us."
Landscaping crews were on-site all day Tuesday working to clean up the mess. There also are a number of roofs in need of repair before the next monsoon storm hits.