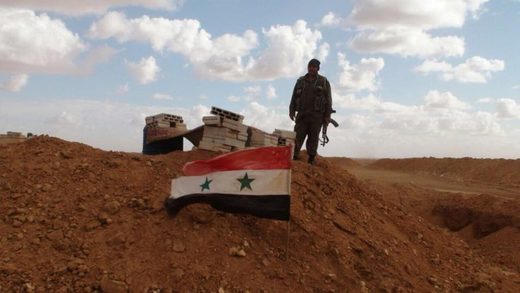 Early in the Syrian war Daraa became a terrorist hotbed in part because it was extremely close to Israel and their illegally occupied Syrian territory the Golan Heights. Israel has made it abundantly clear that the Daraa terrorists are its terrorist proxies and it hoped to steal even more Syrian territory when Syria was destroyed. However with Eastern Ghouta liberated the Syrian Arab Army was finally able to turn its full attention to liberating Southern Syria.
Israel has launched illegal airstrike after illegal airstrike in a desperate bid to save its terrorist proxies including ISIS.
It has threatened to launch a region-wide war targeting not just Syria but Lebanon, Iraq, in addition of course to their endless ongoing war on the Palestinians, their butchery of women and children which will never cease until Palestine is liberated. However Syria refused to give in to Israeli or American threats. Syria along with its allies Iran and Hezbollah were prepared to fight a full-scale war if necessary. Russia after some foot dragging also decided to help the SAA liberate Daraa. Israel was forced to watch as their terrorist proxies were routed in a matter of months. The battle of Daraa is not over but it is clear that a decisive victory has already occurred.
Syria has secured the Naseeb border crossing with Jordan liberated huge swathes of territory encircled the terrorists and cut off their supplies. Today July 12 they entered the southern part of the city of Daraa.
The war in Syria continues. ISIS have been launching increasing attacks in an attempt to save Daraa but Syria have been launching a major campaign to clear them out of their desert stronghold. Once Daraa is liberated the SAA may turn its attention to Idlib and to ejecting the Turks.
The Syrians are holding secret negotiations with the Kurds who are rethinking their treachery after America has decided to let Turkey occupy more and more SDF held territory.
Plans are already in place to kick out the American, British and Italian occupation forces with resistance groups being formed in the north of Syria. Unfortunately the Americans are stubborn, vindictive and very sore losers so there is no telling what new plan they are hatching to extend the war and bring still more misery to the long-suffering Syrian people. Even if the US forces do leave, the propaganda war against Syria could go on for decades. More tragically the economic war on Syria that began back in 2003 with sanctions on Syria will continue. Vital supplies needed to repair Syria, vital medicines and equipment needed to heal the people of Syria are being prevented from entering the country. There is no telling how many thousands of people have already died as a result of these sanctions which are usually overshadowed by the brutal crimes of the western backed terrorists.
Despite the obstacles they face Syria continues to march towards victory. With the help of its allies it has defeated America, Israel, NATO, the Saudis and the many other members of the axis of chaos. They have withstood untold misery and nearly every family has given a martyr to the cause of Syrian independence. When the war is won the balance of power will forever be shifted in the region and hopefully the empire will be forced to vacate Iraq and the Axis of resistance will be able to turn it's attention to the liberation of Palestine. Unfortunately in much of the world the future is much bleaker.
Sources
Read the full article at
Anti-Imperialist U
.