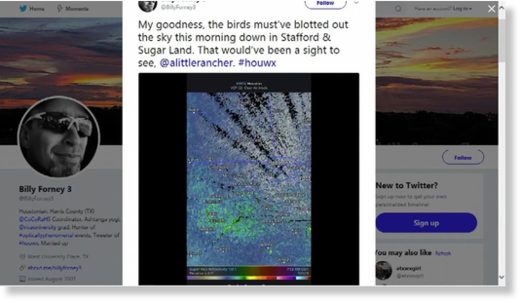 Birds taking off during the early morning hours caused quite the radar image for the past couple days.
On Twitter, Billy Forney says he noticed the fascinating images and found that it was caused by birds.
"Well, those birds down in Stafford, TX started the day taking flight from their roost in symmetric fashion," he tweeted.
In an earlier tweet, Forney noticed a lot of movement on the radar that captured the movement of the birds.
ABC13 Meteorologist Travis Herzog also noticed the bird return on doppler radar.
That ring seen growing on radar is a large flock of birds heading out for a morning snack. I pray they find their way to the all you can eat mosquito buffet. pic.twitter.com/kDscZWGNUt

— Travis Herzog (@TravisABC13) July 12, 2018
Forney shared a new video Thursday morning of the birds tweeting, "The large population and high density of these beautiful-sounding birds is just fascinating. Watch as wave after wave of these birds took flight this morning. This video was part of a second flight, during which time nearly the entire population of these birds left the roost."