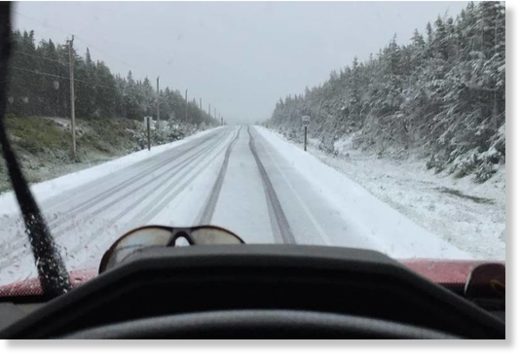 'I haven't seen snow this late in the year since a long time'
Morning commuters making their way through the Cape Breton Highlands were greeted with a slick and unwelcome surprise early Tuesday morning in the form of snow-covered roads.
Saltwire meteorologist Cindy Day is reporting that somewhere between five and seven centimetres were on the ground in some of the higher elevation areas of Cape Breton as the sun was coming up.
"It was a little bit unexpected," Day told the
Cape Breton Post.
"The expected low temperature was to be about 3 C and that's a temperature measured a metre and a half above the ground at reporting stations, so anytime you start going up in the Highlands, any kind of elevation you have that risk of mixing."
There was snow in the forecast for Newfoundland and Labrador overnight Tuesday but the air mass responsible for those unseasonable conditions was not expected to have the same impact here.
"I thought that maybe it would be a degree or two warmer and it would keep it on the rain side of things but there was just enough cold air sitting on top of the Highlands to produce that snow."
While it may seem outrageous to some, snow in the highlands can happen, even in late June, according to Richard Jackson, a resident of Ingonish for most of his life.
"Snow in June was not uncommon 20 years ago," said Jackson, who now lives in Sydney.
"With the way weather has been changing I haven't seen snow this late in the year since a long time."
Though he no longer lives up north, Jackson checks the Nova Scotia webcams daily for images from his home, including the Highlands Links where his father was head greenskeeper for almost 20 years.
"Beautiful part of our island but very unpredictable weather. I'm 52 and can remember snow in June on numerous occasions."
Day said there is no data regarding snow this late in the year noted at recording stations in Grand Etang or Cheticamp, but that doesn't mean it hasn't happened over the highlands, where there are no official measuring stations.
"Now, with everybody having a smart phone and the photos being so available, it makes it so much easier," she said.
"This could have gone almost undetected by most people, just the odd few who had driven through it, but now we get to share the beauty."
She said there's no sign of any more snow for any part of Cape Breton in the coming days. In fact, temperatures and conditions more commonly associated with summer could soon be on the way.
"We are going to be in that heat that is expected to sit over central Canada and the Eastern Seaboard but certainly our temperatures are going to jump up to be above seasonal values," Day said.
"There's a lot of heat coming; we just have to wait for it."