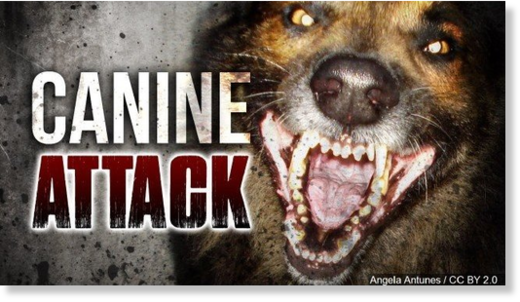 A Burnet police officer shot and killed one dog and injured another
after three dogs attacked her and a man on a neighborhood street.
Patrol Cpl. Alex Fidler responded
when a man reported being attacked by three large dogs
in the 700 block of South Vanderveer, near Burnet Elementary School, on Thursday, June 14.
The officer was checking out the man's injuries when the dogs returned.
Police reviewed body camera video footage which showed Fidler trying to get away from the dogs.
"If she did not have that, then it would be our word against their word," Chief Paul Nelson said.
Nelson released the 911 call, body camera video, and surveillance video from a nearby home on Monday.
In the body cam video, Cpl. Fidler can be heard saying, "You better send me another unit, I'm about to shoot 'em all."
"In the process; Cpl. Fidler had to protect the citizen and herself. Cpl. Fidler unfortunately had to discharge her duty weapon twice, striking and killing one dog, striking and injuring a second dog; the third was not shot and ran away from the scene," according to a release from Burnet Police Department. The injured dog was found and given medical attention.
Fidler was bitten on both her arms and went to the hospital.
The Burnet Police Department posted a photograph of the officer's bite wounds on their Facebook page.
"If one dog was by itself, it may not have happened. But once they grouped together, the three, they followed one of them and the attack was on and the officer tried to get away and she couldn't," Nelson said.
The man had minor injuries and did not go to the hospital for treatment.
Police say they located the dogs' owners. One of them is Nelson Williams, who KXAN spoke with on Monday.
KXAN showed Nelson the body camera video the police department provides, and he said, "I think that she doesn't't know how to be animal control. She only knows how to act like a cop."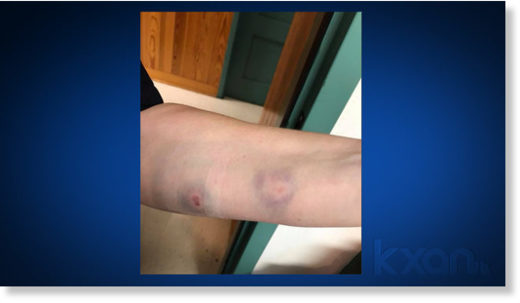 "I was pretty upset, Williams said, taking a long pause. "Yeah, I was really upset."
Chief Nelson said they've issued a citation in the past, "Dog at Large," for Williams' dog. The police department is still researching to see if there are more incidents documented for the other two dogs involved. Nelson said there could be additional charges if a dog has bitten someone in the past and got out again.
Williams called the whole thing an accident, when it comes to all three of the dogs being out on the neighborhood street unsupervised.
When asked if he would do anything different with his dog Rocky, Williams told KXAN, "I guess I would have known that I was going to be gone that long I would have ran back to put him back in the house."
KXAN has not been able to reach the owner of the dog shot and killed, who also owns the third, uninjured dog.