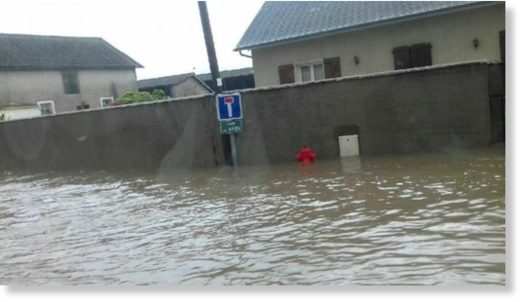 Thirteen departments across France are still on orange alert for flooding and rain, Météo France has warned,
even as existing floods cause chaos across the country.
In a warning
issued this morning
(Wednesday June 13), flood risks still exist for Ille-et-Vilaine, Calvados, Eure, Eure-et-Loire, Orne, and Sarthe in the north west; and in the Landes, Gers, Lot-et-Garonne, Tarn-et-Garonne, and the Haute-Garonne in the south west.
The already-stricken Pyrénées-Atlantiques and the Hautes-Pyrénées are also on alert for flooding, but with up to 60mm of rain still expected in some areas.
The orange alert level is the second-most severe, and warns people to be very vigilant.
The current Météo France alert will be in place until at least 16h today.
Flooding has already caused chaos in the Pyrénées-Atlantiques, with 1,870 homes reported as without power as of this morning.

Car parks, shops and businesses were closed as water levels - from the river Saleys - reached as high as 1.40m in some areas.
Estimates suggested that up to 100 litres of rain per cubic metre had fallen in the city of Pau, and the nearby commune of Salies-de-Béarn was especially affected.
The grotto at the holy town of Lourdes was also flooded and closed to visitors as water streamed by the normally-accessible site.
#Inondations : malgré les travaux engagés après les #crues dévastatrices de juin 2013, le gave de Pau est sorti de son lit à #Lourdes et la grotte est envahie par les eaux depuis cette nuit. Toutefois, d'énormes boudins rouges ont été installés à l'entrée de la grotte. @LCI pic.twitter.com/vPKHjMVer5

— Guillaume Woznica (@GWoznica) June 13, 2018
Emergency services took 600 calls relating to the flooding in just 24 hours.
Michel Gouriou, director of the local fire brigade, said one fireman was "swept away with his vehicle in a torrent of mud" when he tried to enter the firehouse, and spent one hour in the water.
He was eventually saved by his colleagues, Mr Gouriou said, thanking the team for their work.
Yet, while rain and flooding remain a risk, violent storm warnings have now been lifted across the whole country, including in the Rhône and Isère, which had been the final two departments to be on alert for storms in particular.