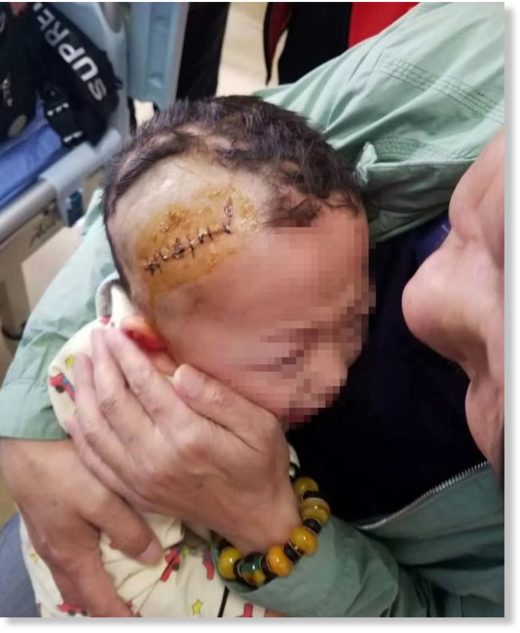 A dad saved his young son from a vicious dog attack in the street - before chasing down the animal and killing it.
Horror CCTV footage shows Lu Mingze, three, following behind his parents as the trio strolled through their residential complex on a sunny day.
As they walk, the clip shows a dog come into view from nearby bushes.
The canine suddenly pounces on the unsuspecting boy, knocking him to the ground and savaging at his face and head.
The boy's father, Lu Jungeng, ran over and immediately kicked the dog, causing it to stop its attack and run away.
The parent, however, gave chase to the animal and can be seen on CCTV repeatedly punching the dog and even suffering a bite in the chest as the animal jumps up to retaliate.
Junfeng eventually killed the dog out of anger.
The dad said: "Our son was walking behind us when the dog suddenly came out of nowhere and started biting him.
"He was full of blood. We took him to hospital, and he received 10 stitches on his head."
Junfeng said they have put up notices around their residential area in Sichuan, south-western China in hope of finding the owner of the dog, which did not appear to be a stray as it had a collar.
The dad said: "The dog managed to sneak into our complex without being stopped by any security, and now no one is coming forward to claim the animal.
"I hope somebody with information gets in touch with me soon."
Junfeng did not say whether he had involved the police.