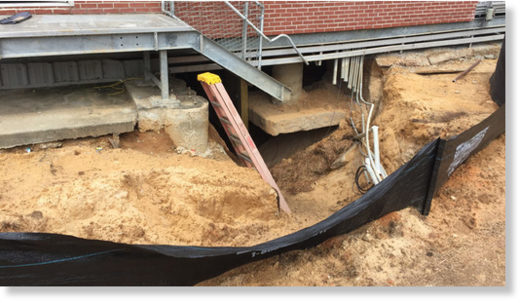 Engineers and construction crews found a massive sinkhole at Oxford High School. The sinkhole was found behind the press box on the football field.
However, FOX13 found out it's a problem that runs deeper than under the press box.
The Oxford School Superintendent said the massive sinkhole wasn't caused by rainwater, but an underground spring.
"I mean honestly, if there's a way we can possibly cut it off, so it won't erode it again; that would be perfect," said Oxford's Alexus Malone.
The erosion has left concrete supports standing in mid-air under the press box. Construction workers have had to put in temporary wooden support beams until they can fill the sinkhole.
The cost to fill the sinkhole and correct the problem could run as much as $100,000, according to the superintendent.
Former Oxford High football player Mike McGhee says, "just fix it."
The Oxford School Superintendent told FOX13 the repairs will be done before football season starts in the fall.