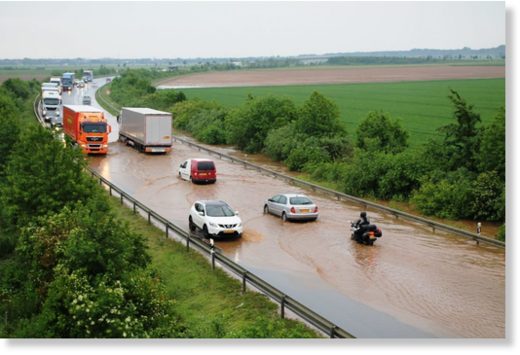 Storms across northern Europe have caused surface flooding in Belgium, Germany, Netherlands and France, including the capital Paris.
The region has seen several violent storms over the last few days, in particular on 22 May, where Meteo France said that 13,964 lightning strikes were reported across the country.
The storms also brought hail - some areas of Germany have recorded hail 50 cm deep - strong winds and localised heavy downpours which have flooded streets and damaged homes. No fatalities have been reported.
France
In France, the storms affected areas of the Rhone valley to the North-East, and from the Central-West to the Belgian borders.
Meteo France said "These thunderstorms have been locally violent and associated with hailstorms. In the absence of a marked flow, they were not very mobile and the accumulations of precipitations very locally reached 50 mm in just 1 hour."
Heavy rain flooded some streets and metro stations in Paris, which also saw strong hail storms. The highest rainfall totals were observed in northwestern Paris, with some areas seeing between 50 mm and 70 mm, with most of it falling in around 1 hour. Meanwhile in the south of Paris, only 2.4 mm of rain fell at the Montsouris station, 14.2 mm at Luxembourg station and 21.9 mm at Longchamp station.
Belgium
Storms during the afternoon of 22 May caused surface flooding and damage in the provinces of Hainaut and Liège. Local firefighters were called to over 100 interventions.
Surface flooding was reported in Esneux, Grâce-Hollogne, Flémalle and the city of Liège. Local media also reported flooding in Tilff (Liège) and a small mudlisde in Erquelinnes, Hainaut, which has damaged around 10 homes.
Germany
Deutsche Welle (DW), Germany's public international broadcaster, said that thunderstorms and hail affected areas across western Germany,
with 50 cm of hail falling in Kaisersesch in Rhineland-Palatinate on 22 May.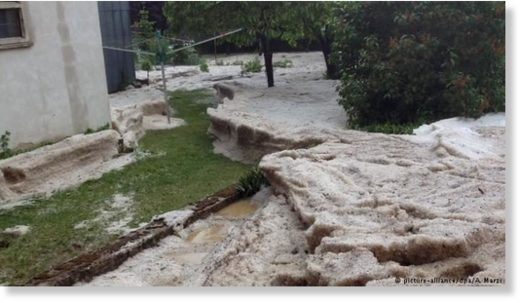 "Tuesday's "summer thunderstorm" in the west and southwest of Germany damaged buildings and flooded cellars and streets, particularly in the states of Hesse, Baden-Württemberg and Rhineland-Palatinate,"
DW added.
Some flooding was reported in the town Mücke, northeast of Frankfurt and a small landslide in the north of Koblenz. Local media reported some surface flooding in the Heinsberg district of North Rhine-Westphalia.
Netherlands
Just across the border from Heinsberg, the towns of Sittard-Geleen and Munstergeleen in the Netherlands also some some surface flooding, damaging houses in the area.