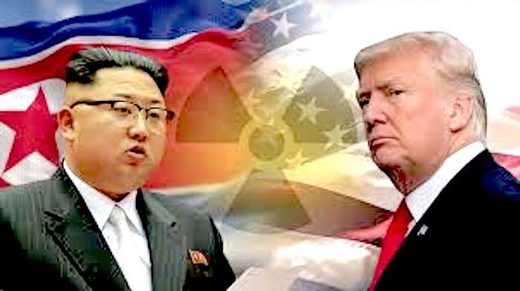 Pyongyang is not interested in any negotiations that envisage only unilateral denuclearization without guarantees North Korea won't be left totally defenseless like Libya in case of aggression, deputy foreign minister has said.
Criticizing Washington's demands for unilateral concessions and unconditional "nuclear abandonment,"
North Korea's first vice minister of foreign affairs Kim Kye-gwan recalled the eventual fate of Libya and said such negotiations style is unacceptable for Pyongyang.
"This is not an attempt to solve the problem through dialogue but rather the manifestation ...to force the destiny of the collapsed Libya and Iraq to our dignified state," Kim said, according to KCNA.
The US invaded Iraq in 2003, claiming Baghdad possessed weapons of mass destruction. No such weapons were ever found. That same year, Libyan leader Muammar Gaddafi offered to shut down the country's nuclear weapons research. Libyan nuclear materials were transferred to the US. In 2011, however, the US and its NATO allies backed an armed rebellion that overthrew and killed Gaddafi and plunged Libya into chaos.
"I doubt whether the United States really wants sound dialogue and negotiation," Kim added, again noting that "the world is so well aware that our country is not Libya or Iraq."
Denouncing the ongoing "sanctions pressure offensive" against the North, he accused Washington of
misrepresenting North Korea's "generosity and bold measures as an expression of weakness."
Last week, as a sign of goodwill,
North Korea went on to release three Americans detainees
accused of espionage - Kim Hak-song, Kim Sang-duk and Kim Dong Chul - removing one of the main obstacles ahead of the June 12 summit in Singapore. In another peaceful gesture,
the North pledged to place a moratorium
on nuclear and missile testing and in the spirit of transparency
invited foreign journalists to watch the nuclear test site shutdown, scheduled for May 23-25.
"We will not be interested in talks anymore if (they) only try to push us unilaterally into a corner and force us to give up nukes," he said. "It would be inevitable to reconsider whether to respond to the upcoming summit with the US."
Deputy FM's remarks came a day after
Pyongyang's decision to cancel negotiations triggered by
Max Thunder 2018 military exercises between the South and the US,
which are viewed by the North as a rehearsal for the invasion of the DPRK and a provocation amid warming inter-Korean ties.
"It is regrettable that the North's unilateral move to postpone the high-level inter-Korean talks, citing the annual South Korea-US air drills does not conform with the spirit and purpose of the agreements reached between the leaders of the two countries," the unification ministry said in a statement cited by news agency Yonhap.
South Korea urged Pyongyang to return to the negotiations table, stressing that Seoul remains
"strongly committed"
to the so-called Panmunjom Declaration, adopted during the historic summit of Kim Jong-un and Moon Jae-in on April 27.
"This training is aimed at .. and is a deliberate challenge to the Panmunjom declaration and is a deliberate military provocation,"KCNA wrote on Wednesday. "This training... reflects the unchanging attitude of the US and South Korea to continue 'maximum pressure and sanctions' against us."
The North also threatened to scrap the highly-anticipated summit between US President Donald Trump and North Korean leader Kim Jong-un.
"The US will have to think twice about the fate of the DPRK-US summit," KCNA said. "There is a limit in showing goodwill and offering opportunity."
Washington however still aims to hold the Trump-Kim meeting as planned and has defended the right to conduct drills with its Asian ally.
"We have not heard anything from that government or the Government of South Korea to indicate that we would not continue conducting these exercises or that we would not continue planning for our meeting between President Trump and Kim Jong-un next month," State Department's spokesperson Heather Nauert told reporters on Tuesday.

"I will say that Kim Jong-un had said previously that he understands the need and the utility of the United States and the Republic of Korea continuing in its joint exercises. They're exercises that are legal; they're planned well, well in advance," she added.
The exercise that got North Korea so wound up is
Max Thunder 2018, an annual event
involving dozens of US and South Korean fighters, bombers and transport aircraft. This year's drills involve some 100 airplanes, according to South Korea's
Yonhap
news agency.
Eight US F-22 stealth fighters are taking part in the exercise for the first time, as well as an unspecified number of B-52 strategic bombers based on the Pacific island of Guam. The planned show of air power "appears aimed at further pressuring the North to give up its nuclear ambitions," according to Yonhap.

The air combat exercise is scheduled to run between May 14-25, the Pentagon said on Tuesday. Along with Foal Eagle 2018, Max Thunder is part of "recurring annual exercises" between the US forces and the Republic of Korea. The drills were postponed during the 2018 Winter Olympics, in which North and South Korea appeared jointly.

"These defensive exercises are part of the ROK-US Alliance's routine, annual training program to maintain a foundation of military readiness," the Pentagon said.

"The US will look at what North Korea has said independently, and continue to coordinate closely with our allies," White House spokeswoman Sarah Huckabee Sanders said in a statement.

The US has maintained a military presence in South Korea since the 1953 armistice froze the Korean War. Pyongyang has frequently objected to US-South Korean military drills, and demanded a moratorium on them as a precondition for any peace talks.
That objection appeared to have been dropped last month,
after a South Korean delegation visited Pyongyang and
said Kim "understood" Seoul's position on organizing military drills with the Americans.
"Our stance on the joint military drills is that it is hard to postpone the exercises again or suspend them, and there is no justification for doing so. But Kim said that he understands the South's stance," a high-level official in South Korea's presidential office told CNN.
That understanding now seems to be up in the air.