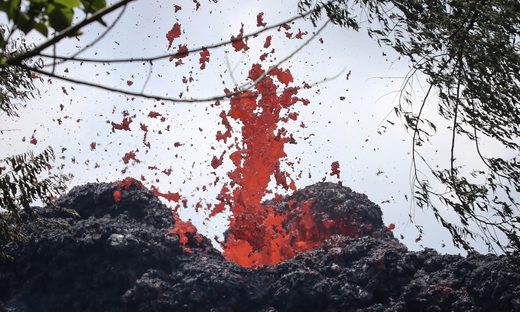 A new fissure roaring like jet engines and spewing magma opened on Hawaii's Kilauea volcano on Saturday, piling lava as high as a four-storey building, as the area torn by the US volcano's eruption spread.
The crack in pasture land
on Kilauea's east flank was the 16th recorded since the volcano
, one of the world's most active, erupted eight days ago. Thousands of people have fled their homes on Hawaii's Big Island because of
lava and toxic gases, and dozens of homes have been destroyed.
The new fissure opened up about a
1.6km east of the existing vent system
that has devastated the island's Leilani Estates neighborhood, with a few homes on the edge of the field where the vent opened. The US Geological Survey has warned that
more outbreaks remain likely.
Within hours of opening, the fissure had
piled reddish-black lava about 12 metres high (40ft) and at least 45 metres (150ft) in length. Chunks of magma were being spewed 30 metres (100ft) in the air.
Shortly after the fissure opened, the Geological Survey's Hawaii volcano observatory said
seismic activity remained "elevated"
at Kilauea's 1,200m-high summit. The USGS reported a shallow but
small earthquake with a magnitude of 3.5
hit the island on Saturday.
Geologists warned on Friday that
a steam-driven eruption from the Halemaumau summit could shoot large boulders from the crater and ash plumes
6,100 metres (20,000ft) high. Ash and debris could be spread up to 19km (12 miles).
Kilauea's vents have been oozing relatively cool, sluggish magma left over from a similar event in 1955. Fresher magma could now emerge behind it and
the volcano is threatening to start a series of explosive eruptions, scientists have said.
The Hawaiian Volcano Observatory reported that the new fissure opened a mile north-east of the last fissure and east of the Puna Geothermal Venture plant. No significant lava flow was reported immediately. Plant workers this week removed 50,000 gallons of pentane gas stored at the site.
The volcano began spurting lava into a residential neighbourhood last week. On Friday, Donald Trump declared a major disaster on the Big Island. The move will make federal financial assistance available to state and local governments as they repair roads, public parks, schools and water pipes damaged by the eruption.
Tourism officials are hoping Kilauea's eruption will not deter travellers, even though the volcano began spurting lava into a residential neighbourhood last week. George Szigeti, chief executive of the Hawaii Tourism Authority, said Kilauea was being monitored constantly and added that the Big Island is "immense", with large areas unaffected by the volcano.
Associated Press and Reuters contributed to this report.