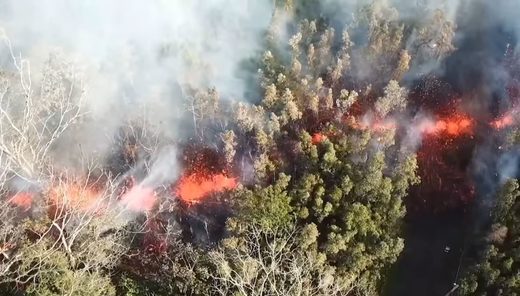 A large, 6.9-magnitude quake jolted Hawaii Island on Friday afternoon, just an hour after another sizable quake, amid an ongoing eruption of Kilauea that's triggered mandatory evacuations in Leilani Estates, sent lava spewing into streets and threatened homes.
Six fissures - each several hundred yard longs - have been confirmed in the Puna subdivision
, officials say.
The extent of the damage isn't yet known, but officials did say at least two structures were significantly damaged and a number of roads have been covered in lava or severely cracked.
"Everything is still elevated,"
said Talmadge Magno, administrator of Hawaii County Civil Defense. "It kind of gets you nervous."
The 6.9-magnitude quake, which happened about 12:30 p.m., was
the largest in Hawaii since 1975 and generated small tsunami waves around the Big Island
. Hawaii County Civil Defense said sea fluctuations ranged from 8 inches in Hilo to 16 inches at Kapoho.
The temblor, centered on the south flank of Kilauea,
was felt as far away as Oahu
and
triggered several landslides along the Hamakua Coast
, including one that closed a lane for several hours.
After the quake,
about 14,000 customers lost power
in Kaumana, Hilo and Puna. Power has since been restored.
The temblor came about an hour after a 5.4 magnitude shook the Big Island on Friday morning, which was followed by a fifth eruption spewing lava into Leilani Estates. That quake was also centered near the south flank of Kilauea - about 18 kilometers southwest of Leilani Estates, the USGS reported.
The quakes added to an already busy day for the Big Island, which is now grappling with six separate fissures in Leilani Estates.
Hawaii County Civil Defense authorities said the situation in the subdivision continues to get more dangerous and have issued this ominous warning to households that choose not to heed mandatory orders to leave: "First responders may not be able to come to the aid of residents who refuse to evacuate."
Big Island Mayor Harry Kim reiterated that warning Friday, but also sought to reassure residents, saying they could return to their homes as soon as the area was deemed safe.
"All of us have got to remember this is a tragedy on them and we have to work .... to minimize it as best as possible," Kim said. "I'm from Puna so I am not going to be a hypocritical. That's my home and I love Puna. There is no place to me more beautiful ... and we know the hazards."
The six eruptions, the latest of which started just five minutes after the large quake, are threatening entire sections of the subdivision. Dramatic images from the subdivision show
lava bubbling up from the ground and soaring more than 100 feet in the air
. Residents described the sound of the eruptions as haunting - "hissing" and "like a freight train."
So far, officials have confirmed breakouts on Mohala Street, Kaupili Street, Makamae Street and near Kahukai Street and Leilani Avenue.
Civil Defense said all Leilani Estates and Lanipuna Gardens subdivision residents are required to evacuate immediately.
Kim also said though the eruptions are mainly affecting this particular region of Puna, surrounding areas should also be on alert. "In regards to activity of lava itself, yes, we're gonna monitor it very carefully and be ready to evacuate or identify different areas," Kim said.
In addition to the large quake, the Big Island continues to get rattled by smaller tremors.
Resident Ikaika Marzo said he could feel several quakes shake the area in the early morning hours before the second eruption in the community around 1:30 a.m. The new eruptions Friday come in the wake of the volcano's first fissure in the community on Thursday afternoon.
The first eruption in the subdivision started Thursday afternoon and had ended by about 6:30 p.m., after creating
a fissure that sent lava soaring as high as 125 feet into the air
. About 10:30 p.m., geologists confirmed the fissure (whose length was not immediately clear) was no longer erupting.
They stressed, however, that new lava outbreaks remain a possibility.
"The opening phases of fissure eruptions are dynamic and uncertain. It is not possible at this time to say when and where new vents may occur," the observatory said, in its latest update. "Areas downslope of an erupting fissure or vent are at risk of lava inundation. At this time, the general area of the Leilani subdivision appears at greatest risk."
Two emergency shelters
remain open for evacuees - one at Pahoa Community and the Keaau Community centers. More than 200 were at the shelters by Friday afternoon, and that number was expected to continue to grow.
Within hours of the eruption Thursday, Gov. David Ige had activated the Hawaii National Guard and issued an emergency disaster proclamation. FEMA is also mobilizing resources.
In an interview with Hawaii News Now, Ige urged evacuees to "stay calm" and continue to stay tuned to emergency alerts.
Those residents fled their homes Thursday evening
with few belongings - just what they could collect in the minutes they had to leave, as officers went door-to-door to ensure everyone got out. One resident said he grabbed his father's ashes as he ran out the door.
"My family is safe, the rest of the stuff can be replaced," another resident said. "When I bought here 14 years, I knew that this day would eventually come. But the reality is sinking in now."
Some residents seemed in disbelief at what they were seeing in their own backyards. In social media posts, they documented lava sputtering up from cracks in the roadway and then angrily boiling up higher and higher
.
Marzo was among the first people in Leilani Estates to spot the active lava. And as soon as he did, he started notifying anyone he could find.
"When we drove on that road,
we heard a noise in the forest and it was like a little thump
," he said. "
Next thing, like three to five seconds after that, we smelled sulfur. After that, that's when there was tons of sulfur. Then we saw some lava popping out
."
The first signs of trouble in Leilani Estates were apparent around 4:30 p.m. Thursday, when residents reported plumes of smoke spewing from cracks in the road. On Wednesday, cracks were also reported on the road in Leilani Estates, but officials reported they did not pose a lava threat.
Still, the cracks
added to residents' anxieties
as the quakes didn't let up.
"Last night, we started having them... about five a minute. It was like that just about all night long," said Chris Burmeister, who lives in Leilani Estates. "
It'll rumble for a little bit. Rumble for a little bit. And then every now and then, you'll get just a heavy jolt
."
According to the U.S. Geological Survey,
there were nearly 70 earthquakes of magnitude 2.5 or stronger from Tuesday to Wednesday
.
Amid the quakes, scientists installed additional GPS monitoring equipment and deployed crews to put in even more monitoring tools.
Before Thursday's eruption, HVO research geophysicist Jim Kauahikaua said the seismic activity seen in recent days is similar to what happened before an
eruption of Kilauea in February 1955
. During that eruption, at least 24 separate volcanic vents opened up and lava covered about 3,900 acres.
Kauahikaua said coastal communities from Kalapana to Kapoho were evacuated and "sections of every public road to the coastline were buried by lava" before the eruption abruptly stopped in May 1955.
On Wednesday, amid fears of an eruption, Hawaii County has closed the Kalapana lava viewing area. The area can draw 500 to more than 2,000 visitors, depending on the level of volcanic activity.
Hawaii Volcanoes National Park was also
subsequently closed to all visitors
.
The last time lava threatened Puna was in 2014, when a flow closed roads for weeks in Pahoa, forced evacuations and claimed several structures, including one home.