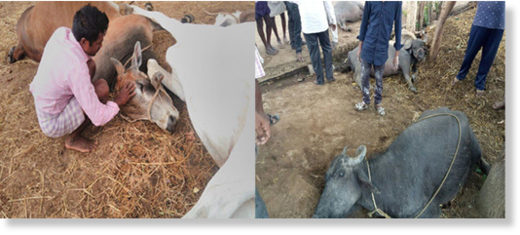 Heavy unseasonal rains accompanied by thunder and lightning storms hit parts of Mahabubnagar, Midjil and Balanagar mandals in the district on Monday
destroying mango plantations and causing heavy losses to cattle such as cows, buffalos and bulls which perished in the district.
During the past two days, four buffaloes and two bullocks were killed and large-scale mango plantations destroyed.
In Midjil Mandal, the thunder storm and lightning struck two bulls killing them on the spot. As a result, the owner P Raju of Tamdakunta Tanda of Midjil mandal in the district suffered losses worth Rs. 1 lakh.
In another incident in Midjil mandal, a farmer Balaiah from Vadyal village also lost his four buffalos worth Rs 2 lakh due to unexpected lightning which hit them. "I used to earn a living by selling 10 litters of milk from the buffaloes. But now, with unexpected calamity, my buffaloes were killed and I have lost my only source of livelihood," bemoaned Balaiah, while speaking to The Hans India here on Monday.
Even in Narayanpet mandal,
heavy winds with swirling storm destroyed trees, standing paddy crops and the mango plantations at many places. In Balanagar mandal, the mango growers in Chinna Revally village have also lost large scale mango plantation worth lakhs of rupees.
Bheemaiah of Chinna Revally who had sown mango plantation on 4 acres of land said,
"The unexpected huge hailstorm with swirling winds took a toll on our mango yields. The unripe mango fruits have all grounded due to the storms.
We have no option but to seek government's support to compensate our losses,"
The cattle farmers, paddy farmers and mango plantation farmers sought compensation from the State government for their losses. "We demand the government to come forward and rescue the poor farmers who had been hit badly by unexpected calamity thereby causing huge losses to the standing crops and cattle," said Pathlavath Raju of Tamdakunta Tanda.