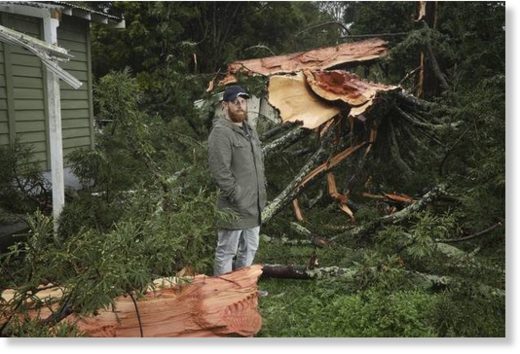 A 9-year-old girl was pulled her from her bedroom by her parents seconds before lightning split a huge tree outside sending a branch smashing through her window.
Shaken by the near miss, the Te Puke family went outside to find their dog dead, believed to have been electrocuted by a lightning strike.
Much of the North Island was doused with rain yesterday causing flooding throughout Rotorua and the Coromandel. A state of emergency was declared in Ngongotaha after a stream burst its banks.
Matt and Nicole Petuha and their youngest daughter, Isobel, 9, were asleep in their rented home in rural Te Puke yesterday when they were woken by a huge boom of thunder between 4.30am and 5am.
"It shook the whole house and woke us up," Matt Petuha said.
They went to check on Isobel and brought her into their room.
A minute later they heard "Kaboom!" Petuha said.
Lightning had struck the huge redwood tree in their front yard, splitting all but the last few metres of the trunk down the middle, he said.
The two trunk halves fell on either side of the house, but a branch crashed through the roof of a small lean-to attached to the house and broke Isobel's window.
It sent a shower of glass and wood over the bed the little girl had occupied a minute earlier.