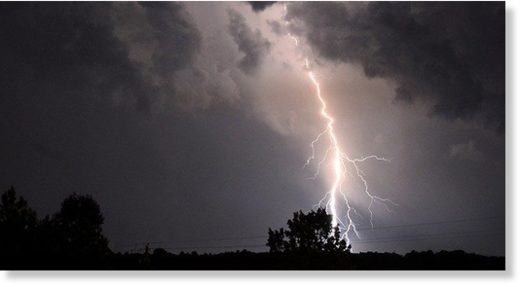 The southern Indian state of Andhra Pradesh has weathered an electrifying week, recording 36,749 lightning strikes in a 13-hour period, and suffering nine fatalities since Tuesday.
A 9-year-old girl was among those killed by lightning this week.
"Extreme weather patterns" sparked the unusually high number of strikes, the state disaster management authority said.
Tuesday's phenomena is considered an anomaly, in comparison to some 30,000 recorded over the entire month of May last year in Andhra Pradesh.
India frequently experiences lightning strikes during heavy monsoon rains, which usually occur between June and September. However, this region of southern India often sees more lightning strikes before monsoon season begins, state emergency operation center head Kishan Sanku told the BBC.
The increase in lightning strikes in Andhra Pradesh this month was in part due to cold winds from the Arabian Sea meeting warmer winds from northern India, causing increased cloud formation, Sanku explained.
The cloud cover extended over an unusual length of 200 km (124 miles), significantly increasing the chance of lightning strikes.
"Usually it is in patches, around 15-16 km. In our experience, this is very rare," Sanku said.
The number of fatalities from lightning strikes is high in India, where at least 2,000 people a year die from being struck, according to National Crime Records Bureau.
In the United States, by comparison, an average of 27 people die from lightning strikes each year.
The lack of reliable warning systems and higher prevalence of outdoor jobs are cited as contributing factors to India's high death toll.
Sanku said TV and radio announcements were made Tuesday warning people to stay indoors. "But we are not able to alert the people working in the fields because they don't carry their phones with them," he said.