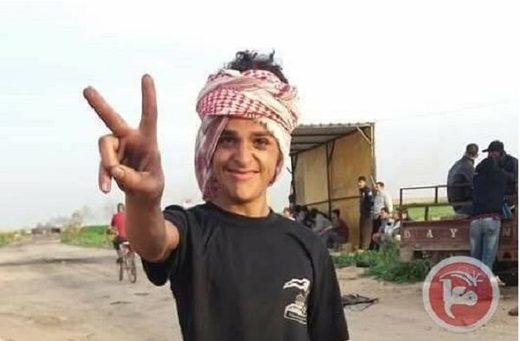 Two Palestinians, including a deaf teenager, succumbed to wounds sustained during the ongoing "Great March of Return" protests in the besieged Gaza Strip.
The Palestinian Ministry of Health reported that 18-year-old Tahrir Mahmoud Wahba, who was deaf, died on Monday morning.
The teenager was shot with live ammunition by Israeli forces during protests on Friday April 13th
in the southern Gaza Strip district of Khan Younis, near the al-Awdeh refugee camp.
Late Sunday night, the ministry reported that a Palestinian "youth," identified as Abdullah Muhammad al-Shamali, succumbed to wounds he sustained last Friday.
Al-Shamali was a resident of the southern Gaza Strip city of Rafah. According to the Ministry of Health, the deaths of Wahba and al-Shamali brought the total death toll in Gaza since the
"Great March of Return"
began on March 30, to 41 Palestinians, including at least three
minors
and a journalist.
The massive nonviolent protests in Gaza have seen thousands of Palestinian refugees take to the heavily militarized borders with Israel to demand their collective right of return to their homelands.
The six-week protest is set to end on May 15th, the 70th anniversary of the Palestinian Nakba, or "catastrophe," when the state of Israel was created, leaving some 750,000 Palestinians and millions of their descendants as refugees.
Despite widespread outcry from international rights groups who have
condemned
Israel's excessive use of forces against the civilian protesters, Israeli has maintained its open-fire rules for the Gaza border.