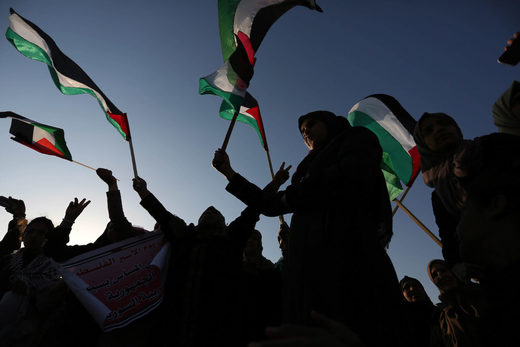 As the Great March of Return enters its fourth week in the besieged Gaza Strip, the activists behind the massive peaceful demonstrations have a message for the world:
"The Palestinian people, especially in Gaza, cannot bear the Israeli siege any longer," says Nabeel Diab of the National Commission to Break the Siege of Gaza. "The Palestinian people are eager to achieve their freedom, their independence, and their right to return to the villages where they were forced out of 70 years ago."
Diab is a member of a grassroots organization of activists who helped plan the march. He says the idea was born after the massive Nakba Day demonstration in 2011 when thousands of Palestinian refugees in Jordan, Lebanon, Syria, Egypt and the Palestinian territory marched to the borders with Israel to demand their collective right of return to their homelands.
Diab says the message of the Great March of Return is the same as the message of the 2011 protests.
"The march is a massive, popular event, supporting the idea that the Palestinian people maintain their right to return and to stay on their lands,"
he tells
Mondoweiss
.
The Great March of Return protests have been portrayed by Israel's government and military as Hamas-led, controlled, and inspired. Israeli media has largely maintained the government's narrative that Ham[a]s is "inciting violence" in Gaza.
But, Diab insists that is not the case.
"The Israeli government's allegations that Hamas organized these protests are lies, and are defamatory statements that have no basis in reality," Diab says.
"This march is the embodiment of popular action involving children, women, and involving all the Palestinians that refuse to accept the occupation of our land."
Critics have argued that Israel has used the Hamas narrative to justify their excessive use of force against protesters.
As of April 14, 36 Palestinians had been killed in Gaza by the Israeli army since the protests began.
"These protests have
shown the world how the right-wing Israeli occupation government commits war crimes
against us and our rights," Diab tells
Mondoweiss
.
Yumna Patel is a multimedia freelance journalist based in Bethlehem, Palestine. You can find her on twitter @yumna_patel. Akram Al-Wa'ra is a freelance Palestinian filmmaker based in Bethlehem, Palestine. Nidal Wuheid is a Gaza-based videographer.