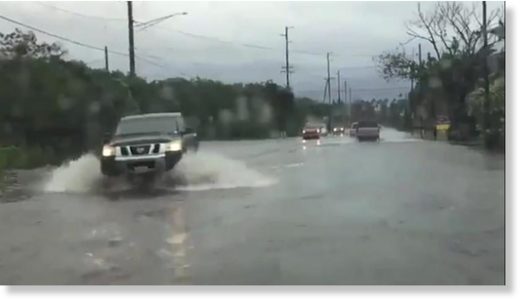 Mudslides and flooding triggered by heavy rain spread damage and shut down roads in Hawaii over the weekend.
At least two homes were torn from their foundations
in Kauai, HawaiiNewsNow.com reports. Officials say the houses appeared to be empty at the time of the incident. Dozens more homes were reported flooded or otherwise damaged.
Roadways had to be closed
due to flooding and debris, the
Honolulu Star-Advertiser
reports. Friday, officials shut down Kalanianaole Highway because of flooding that left vehicles stranded in over a foot of water.
Governor David Ige
issued an emergency proclamation
declaring a disaster on Kauai.
Resident Shauna Tuohy told HawaiiNewsNow that she was watching television with her mother when
brown water suddenly began to pour through a wall
in her home in Aina Haina.
"The water came through my mom's bedroom and down the hallway. There was just a raging river through the house," she said.
The threat of heavy rainfall will last through Sunday, according to weather.com meteorologist Brian Donegan.
"The greatest flooding risk will be on the windward slopes, especially on the island of Kauai, where there is greater atmospheric instability to produce heavy thunderstorms," he added.