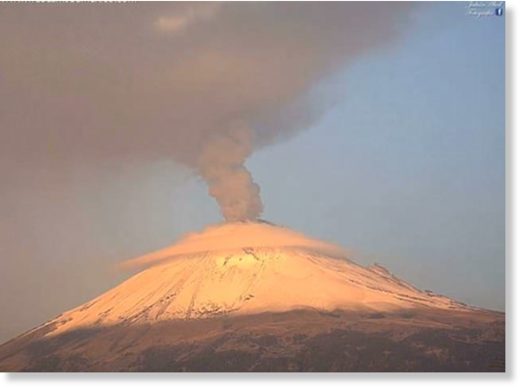 This is the incredible moment a volcano explodes into life sending a huge cloud of smoke into the sky and flaming debris flying.
The Popocatepetl volcano, located between the central Mexican states of Morelos, Puebla and Mexico, burst into life.
In the video, a huge plume of black smoke can be seen coming out from the volcano's crater.
The smoke begins to turn a dark red colour as it continues spewing out of the volcano.
It was also said that flaming debris had been thrown from the volcano's crater during the explosion, with some objects travelling 200 metres (650 feet).
The General Director of the National Centre of Disaster Prevention, Carlos Valdes, wrote on social media: 'The Popocatepetl volcano launched flaming fragments a distance of 200 metres from the crater.'
An security area 12 kilometres (7.4 miles) from the volcano has been established by the authorities.
At 5,426 metres (17,802 feet) Popocatepetl is the second highest peak in Mexico and is located 70 kilometres (43 miles) south-east of the capital Mexico City, from where it can be seen depending on atmospheric conditions.
Just two months ago, Mexico had another eruption from the same volcano, after an earthquake.
In that case, the volcano sent a kilometer-high column of ash into the sky, said Mexico's disaster prevention agency.