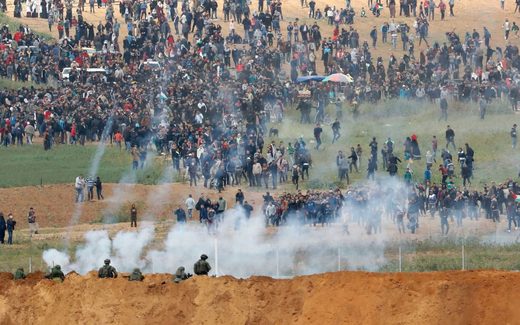 The Zionist regime's troops used "strange" and "unknown" gases against unarmed, peaceful protesters in Gaza, the media reported the central commission for documentation and pursuit of the regime's war criminals - Tawtheeq - as saying.
The regime
used strange gases against the protesters for the first time last Friday
as Palestinians continued their peaceful activities as part of the Great March of Return, Head of the commission Imad al-Baz told Quds Press.
The gases caused protesters' bodies to convulse and tremble, he explained, adding that many lost consciousness as a result for several hours.
"We do not know the kind of gases which were used for the first time," he said, stressing that "but we took cultures from the blood and urine of those affected and we expect the results will be shocking."
Zionist troops used unmanned drones to drop the gas on the demonstrators, al-Baz stressed.
Meanwhile, a Palestinian died Monday of wounds he sustained in late March while shot by Zionist troops during clashes near the Gaza border.
Gaza's Health Ministry identified the man as Marwan Qudaih, 45, from the southern Gaza Strip city of Khan Younis.
At least 30 Palestinians have been martyred and hundreds others injured
since the beginning of a massive Palestinian protest to mark the Palestinian Land Day along the Gaza border on March 30.
The protest is expected to peak on May 15, the day after the 70th anniversary of the regime's declaration of independence but marked by the Palestinians as the Nakba Day, or "Day of the Catastrophe."