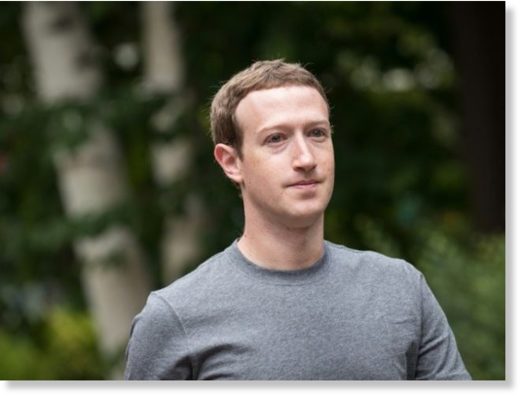 In his call with members of the press yesterday, Mark Zuckerberg said that Facebook was "probably a year into a massive three-year push" to fix alleged issues surrounding "fake news," "misinformation," and election interference on the platform.
Zuckerberg's timeline implies that Facebook's goal is to have fundamentally altered their platform by the time of the 2020 presidential elections, and that work on the project started at approximately the same time as the presidential victory of Donald Trump.
That's also when the panic over "fake news" and "misinformation" started, led by the left-wing and corporate media and embraced by Democratic lawmakers.
The resultant changes to Facebook have seen
conservative media
and the
official Facebook account of Donald Trump
suffer severe hits to their engagement and traffic.
"In 2016 we were behind where we wanted to be," said Zuckerberg. "We had a more traditional view of the security threat. We expected Russia and other countries to try and do phishing and traditional kinds of security exploits, but not necessarily the kind of misinformation campaign that they did. We were behind - that was a really big miss. And now we want to make sure that we're not behind again."
"We've been practically developing A.I. tools to detect trolls who are spreading fake news or foreign interference. In the French election and in the Alabama election, we were able to take down thousands of fake accounts. So that's an example of proactive work that we're now doing to get ahead, which gives me confidence that on the specific issue around election integrity, we're making progress."
"I wish that I could snap my fingers and that in three months or six months I could have solved all these issues. But.. given how complex Facebook is, how many systems there are, and how we need to rethink our relationship with people and our responsibility there across every single part of what we do, I do think this is a multi-year effort."
"Part of the good news is that we really started ramping up on this a year ago or more ... So we're not getting a cold start. We're probably a year into a massive three-year push. My hope is that by the end of this year, we'll have turned the corner on a lot of these issues, and people [will] see that things are getting a lot better."
"These are big issues. This is a big shift for us, to take a lot more responsibility in how each of the tools are used - not just the developer platform, not just fake news, not just elections, but everything. And it's going to take some time, and we're committed to getting that right, and we're going to continue to invest and keep on working until we do."