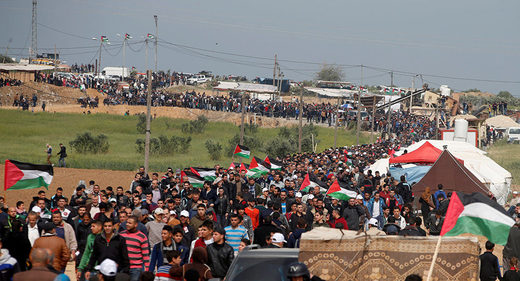 A 12-year-old Palestinian boy has been wounded by Israeli forces who opened fire on a crowd of protesters during the ongoing Land Day protests calling on Israel to return Palestinian lands illegally seized in 1948.
A Palestinian boy was hospitalized to Gaza hospital with a bullet wound on Sunday, reported the
Jerusalem Post
. The boy said he thought he was safe at the Land Day protest as long as he did not touch the barrier or throw stones.
"I was just standing there when I felt something hit my leg and it pushed me to the ground," the boy, Bashar Wahdan, told reporters. According to Jpost.com, the bullet cut through blood vessels and broke a bone.
The boy's father claimed that he was unaware of his son's attendance at the protest.
On Sunday, Ashraf al-Qidra, a spokesman for the Hamas-run Palestinian Health Ministry, said another boy was shot in the head by Israeli forces using live ammunition.
A
picture
uploaded by the Hamas-linked Palestinian Information Center reportedly shows a Palestinian boy in a hospital in Gaza with a bandage over his head.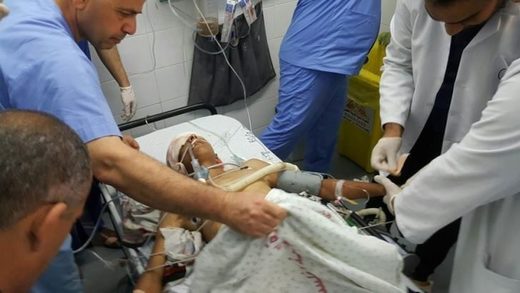 Al-Qidra did not specify the boy's name or age.
According to the official Palestinian Authority news site Wafa, the boy was wounded in clashes, but it did not disclose what he was doing to earn the bullet. It is also undisclosed how close he was to the border fence between Israel and Gaza, reported Jpost.com.
Israeli Defense Forces (IDF) routinely deny shooting children, and an IDF spokesperson claimed that Israeli soldiers "opened fire on two suspects in southern Gaza who had approached the border fence and posed a threat to Israel's security."
According to
al-Qidra
, Israel, under the administration of Prime Minister Benjamin Netanyahu, killed 15 Palestinians participating in the protest on Friday.
According to Gaza's Ministry of Health, over 1,400 Palestinians have been injured in the area by Israeli sniper fire since the rally began. Over two dozen Palestinian protesters were additionally injured on Saturday.
Russia, France and the Vatican have officially condemned the ongoing use of deadly violence by Israel.