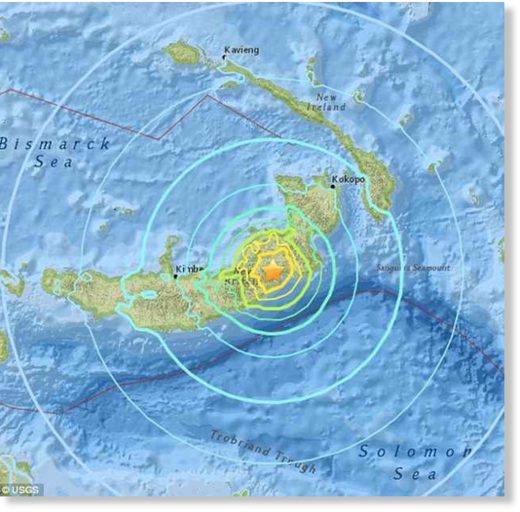 A 6.9 magnitude earthquake has struck off the coast of Papua New Guinea, triggering a tsunami warning for nearby coastlines.
The quake struck at a depth of 10km, about 162 kilometres from the town of Rabaul on New Britain Island, about 7.25am on Friday.
There have been no immediate reports of damage or casualties, though one hotel worker told Reuters her guests ran out of the building in fright.
The tsunami warning was later called off.
Little more than a month ago, the country suffered a lethal 7.5 magnitude earthquake.
At least 100 people in the Enga province died in the quake on February 26, and massive landslides saw entire villages buried.
The townspeople spent weeks trying to determine the damage caused by the quake, and are still struggling to get aid to the most remote and worst affected areas.
Water supplies also took a hit on the country's main island after they were damaged by the tremors.
Papua New Guinea is no stranger to earthquakes, as it sits on the 'ring of fire' in the Pacific Ocean.
The Ring of Fire forms a horse-shoe shape and affects more than a dozen counties. About 90 per cent of the world's earthquakes, and 81 per cent of the largest earthquakes occur in this area.
More to come.